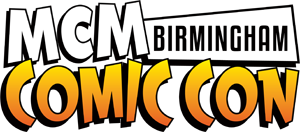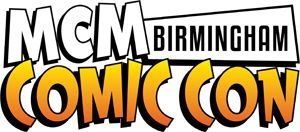 MCM Comic Con Birmingham
The cosplay, the banter, the low down…
Soooooo… We've just finished our second MCM Comic Con show in Birmingham and how was it?… AWESOME!
What happened?! You say.. Who did you meet?! You say.. Well, I shall unfold the story of G2G's encounter with the cosplaying folk of Birmingham at the NEC!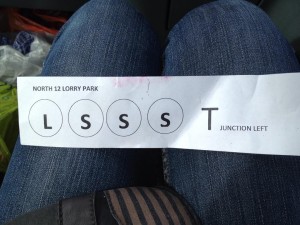 First of all, these were the directions to our allotted parking space. Never a more useful piece of paper!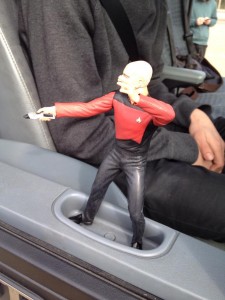 Jean Luc Picard was our satnav for the journey to the NEC. A grand job, as always..
That's our tent.. Yay! This was the calm before the storm (troopers). It was a 5:30am wake up call but we were all in high spirits and raring to go! Gaze upon our wonderful selection of Skylanders!
Here are some of the cosplayers that we met on Saturday. Most impressive attire!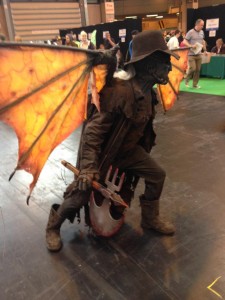 This is Jonathan Breck (not the actual actor) and he plays The Creeper in the film Jeepers Creepers. For some reason (and I have no idea why) this man is one of my heroes. That is all..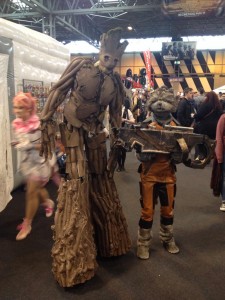 Groot and Rocket!! What a marvellous pair they make..
Don't shoot! We are but mere gamers!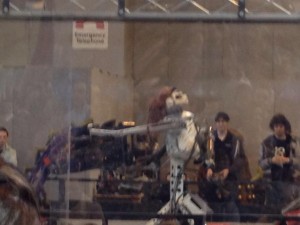 A bit of Robots LIVE action here
This was definitely a favourite of our weekend. Star Lord, little & large!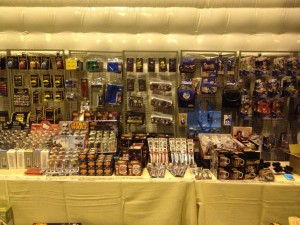 This was outside the front of our tent… *Blows the G2G trumpet*
This photo had to be shown to the world. The kitchen in our accommodation was, unfortunately, being refurbished and out of bounds. This was our kitchen for the weekend. A hallway delight! Eating dinner was just as brilliant. You know you've had a long journey when you're sat in an empty bath eating a meat feast pizza..
Sunday greeted us with even more wonderful cosplayers & delights…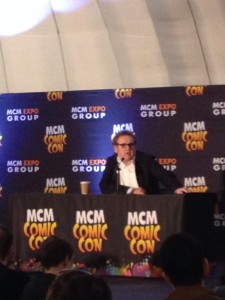 Colm Meaney was on the MCM Main Stage, talking about his latest film. The Dark Lord and myself were lucky enough to meet Colm and have a brief chat with him!! (The Dark Lord fan-girled.. OBVIOUSLY!)
My favourite video game of all time.. Alice: Madness Returns! A fantastic handmade costume and hobby horse here!
These guys…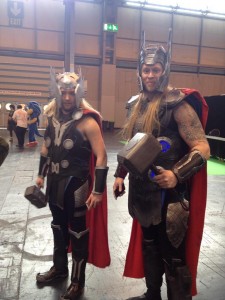 Double Thor action! *Blushes profusely*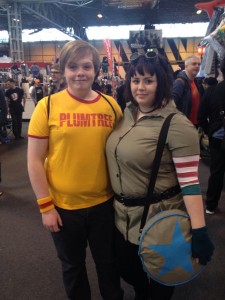 The only Ramona Flowers all weekend…But she looks awesome!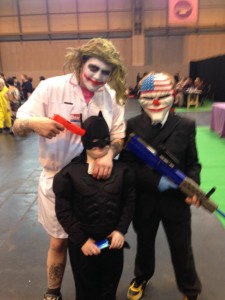 The Joker takes no prisoners..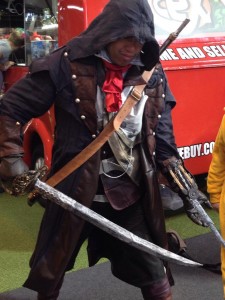 Arno Dorian looking as dapper as ever!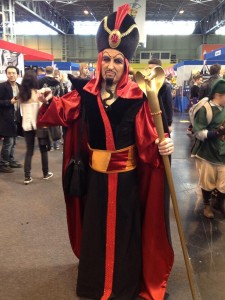 Jafar, Jafar, he's the man!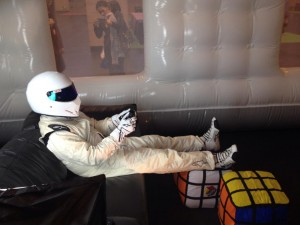 That moment when The Stig comes to play Tekken 6 in your tent…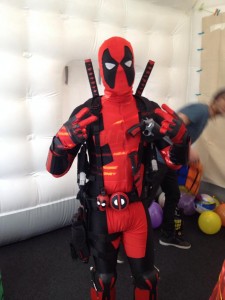 Deadpool also gave the PS3 a seeing to!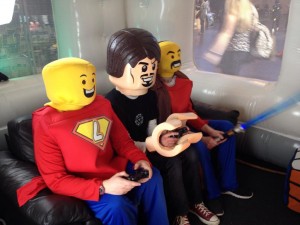 Probably one of the greatest moments of the weekend… LEGO guys playing Tekken in our tent. Minds, hearts and souls BLOWN!!
The White Rabbit and Pyramid Head. They go together so well!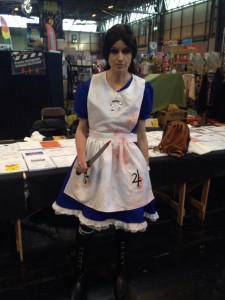 Another outstanding Alice: Madness Returns costume! (Luna is jealous)
As you can see.. An array of fantastic costumes here! We had an absolute blast and everything went swimmingly. London, prepare yourself. Because we will…we WILL…ROCK YOU!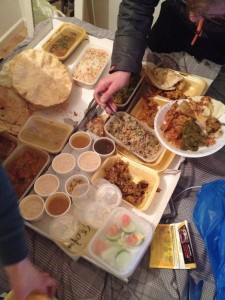 We were hungry… DON'T JUDGE US!!
So… Our van broke down and myself, the Dark Lord & Roberta were towed away in an AA van, back to the secret G2G location! Nothing short of an adventure and our driver was also a very nice man indeed!
We also discovered that Roberta has a very interesting tattoo on his foot. What looks like an oddly shaped mallard?!