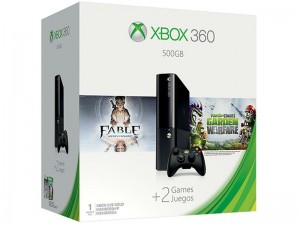 REVEALED
The Xbox 360 Spring 2015 bundles are announced
It's big, it's bold, and it's back! The Spring 2015 bundles have been announced for the Xbox 360. 
Microsoft announced this morning that the new "Spring Value" console bundles shall feature Fable Anniversary, Plants Vs. Zombies: Garden Warfare, Kinect Sports and even more! You lucky lot..
There are three different bundles which are now available worldwide! Each bundle will come with 2 games and a one month's worth of Xbox LIVE Gold code. 
These bundles will be around for a LIMITED TIME ONLY, so do check your local stores and Xbox.com. Below is a breakdown of what the bundles actually consist of. You better get to it!
Xbox 360 – 500 GB Spring Value Bundle – Comes with Plants vs. Zombies Garden Warfare and Fable Anniversary (available worldwide).
Xbox 360 – 4 GB Kinect Spring Value Bundle – Comes with Kinect Sports Ultimate and Kinect Adventures (available in select regions only)
Xbox 360 – 500 GB Kinect Spring Value Bundle – Comes with Kinect Sports Ultimate and Kinect Adventures (available in selection regions only)