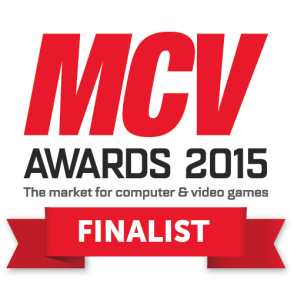 MCV Awards: The Finalists Revelaed
The finalists for the MCV awards have been revealed and our lovely lot are one of them! Woohoo!
We at Go2Games were very excited to learn that we're up for the 'Best Indie Retailer' MCV Award!! How awesome is that?! The ceremony will be held on Thursday 16th April 2015, so we'll keep all our lovely visitors informed on how we get on. Fingers crossed!
We have been previously nominated, and been a finalist too, at last year's MCV Awards of 2014. Alas, being a finalist is as far as we went… But this year we're all revved up and ready to go, especially with our lovely blog on the rise and having great feedback from all of you! For that, we thank you kindly!
As you know, we're also touring MCM Comic Con 2015 in Britain this year *silent rave* and our first one in the Midlands on 14th February went very well indeed! So if you're coming along to any of them, or thinking of doing so, then come and say hello to the G2G crew and our totally excellent inflatable tent!
Anyway, back to the awards! You can check out all of the other finalists too of the MCV Awards 2015 HERE, on their official page. Keep your fingers crossed for us guys!