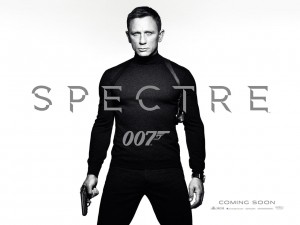 007 – SPECTRE
A teaser poster for the next installation of the James Bond film franchise has been revealed!
If you, like me, are a ridiculously, insanely, outrageously massive Bond fan… Then read on!
On Tuesday 17th March, MGM released, what they have called, a "teaser poster" for the next instalment of the Bond film franchise – SPECTRE. The poster (shown above) gives us dear old Daniel Craig as British spy James Bond, in his classic black two-piece and manipulating his trademark pistol. He's probably one of the only men that can get away with wearing a turtleneck and actually pull it off! He is also wearing a rather large watch. Whether it's a bog-standard watch or a watch of mass destruction, we don't know… But we will find out soon! 
The film is being directed by Sam Mendes and also stars the award-winning actor Christoph Waltz and Dave Bautista, who can also be seen playing 'Drax' in Guardians of the Galaxy. The film will open this year on 6th November. 
Just one more thing… If anyone can tell me what SPECTRE stands for then I shall be most impressed! I already know, but that doesn't count!