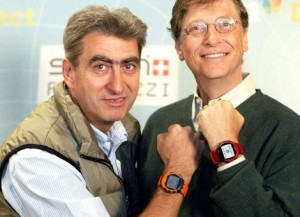 Microsoft Smartwatch
Incoming!! Microsoft are almost ready to launch their new toy. A Smartwatch..
According to a new report from Forbes, Microsoft will be launching a new smartwatch within the next couple of weeks! Upon reading, the swanky new gadget will have health monitoring capabilities, is said to work across different mobile platforms and apparently doesn't have to be charged very often at all! A single charge will last for more than two days, Forbes reports.
What Microsoft's rumoured smartwatch will be called or how much it'll cost still remains unclear to us. As is the question on whether it'll feature any compatibility with gaming at all. This was also not mentioned in the Forbes report.
If Microsoft are indeed working on an exciting new smartwatch, then it won't have been the first time for them! They launched a range of SPOT smartwatches in 2004 that used radio signals to pull in news, weather forecasts, and stock quotes. Sadly, these gadgets were discontinued in 2008.
If Forbes' report is accurate, then Microsoft's smartwatch will launch in the lead-up to everyone's favourite, yet horrendously busy, holiday shopping season!