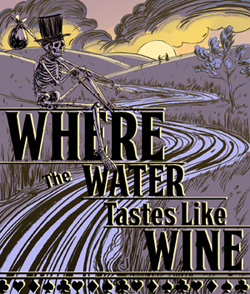 Where The Water Tastes Like Wine
Ex-Gone Home and Bioshock 2 developer has revealed his upcoming game!
The artwork alone for this new game looks enthralling! It all comes from the genius of Johnnemann Nordhagen who is founder of the new studio, Dim Bulb Games, and ex-Bioshock 2 and Gone Home developer.

For those of you who love adventure and fantasy then this is the game for you, being set in a surreal interpretation of America. "In the game, you'll have the chance to freely explore the world, seek out landmarks and cities, meet other travellers and hear their stories, and maybe even tell stories of your own.", explains the developer.
"The title comes from a folk song, or, more accurately, lots of different folk songs," Nordhagen explained. "American folk culture is one of collaboration, sharing songs and stories but giving them your personal twist. It comes from many different cultures – the European settlers, the slaves that were forced to live here, the workers who have travelled here in search of opportunity, and of course the people actually native to this land."
Fantastic and individual storyline, wonderful artwork and an all round exciting new venture to be looking forward to!