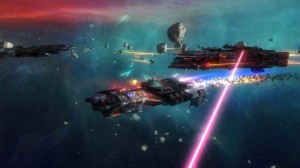 Rebel Galaxy for PS4 and PC
The brand spanking new game, uncovered by former Diablo devs…
Travis Baldree and Erich Schaefer, two ex-Diablo and Torchlight developers, have announced Rebel Galaxy (an open-world space survival game) for the PS4 and Windows PC! The game has been developed by Double Damage Games, which is a new studio co-founded by Baldree and Schaefer.
Baldree shed further light on the game, explaining that it WON'T include multi-player and that it shall cost somewhere "in the downloadable title price range".
Rebel Galaxy sounds awesome.. You get to pilot your own ship and can choose from either being a mercenary, trader, pirate or rogue hero, in an attempt to survive in a sandbox universe. As well as this, the game offers a faction system. This is connected to player actions and conversation-based choices too.
Double Damage also enlighten us with the news that Rebel Galaxy will be available at some point in the upcoming year, via Steam, and will "maybe" become available to the Xbox One.
If you'd like to check out the trailer to Rebel Galaxy, then you can do so HERE.