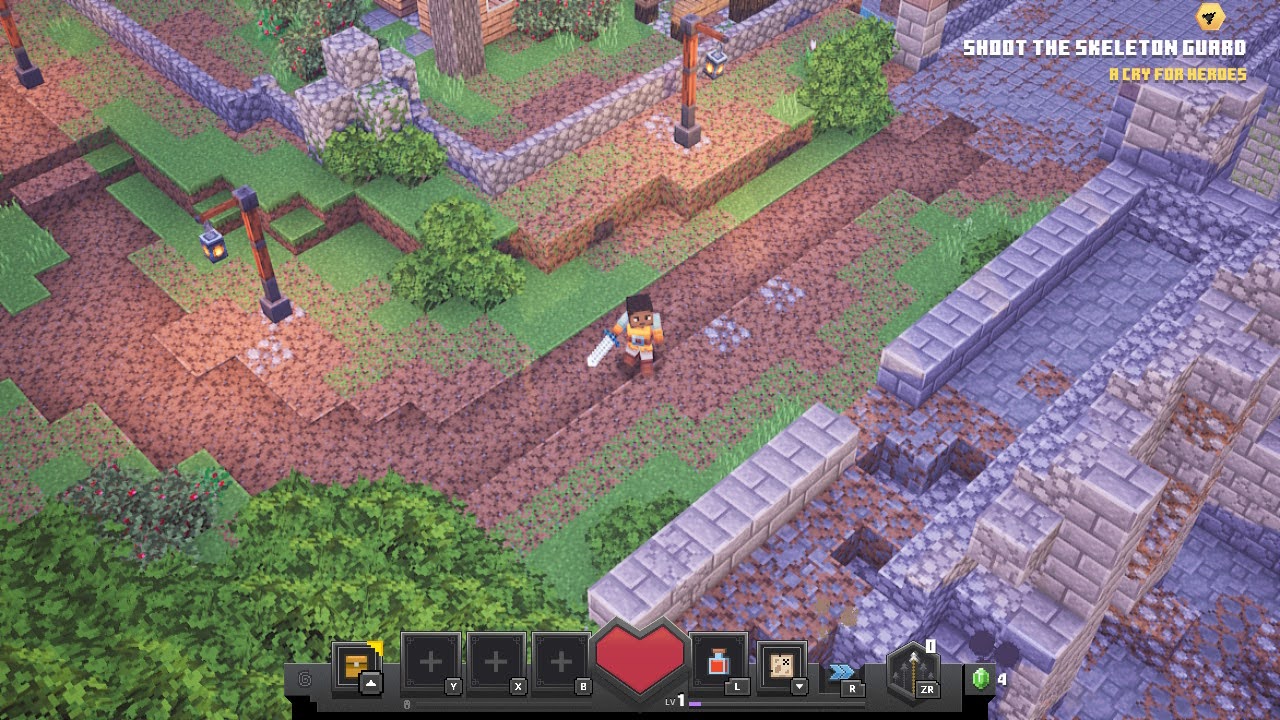 Should you Get Minecraft Dungeons or Not? Is It Worth It?
"It was a time of great adventure and danger…"
Minecraft Dungeons has just been released as a full game trial for 7 days on the Nintendo Switch Eshop, this means you will have access to the full game, which also includes certain features you wouldn't be able to access in a demo, furthermore will allow data transfer if you wish to buy the full game, that means that you'll be able to start Minecraft Dungeons from where you left off after purchase. Minecraft Dungeons is an action-adventure RPG, developed by Mojang Studios. Unlike the original survival and creative Minecraft game, Minecraft Dungeons is not an open-world game that allows you to build, mine and create anything you want. Minecraft Dungeons is a fast-paced point-and-click type of game, it's filled with puzzles, traps, enemies and bosses. This game also allows local or online multiplayer. Now let's start with the positives…
Minecraft Dungeon Gameplay
Minecraft Dungeons follows a classic fantasy tale, a traveller obtains a strong source of power and uses it for evil, builds an empire out of those who feared him and starts to attack and take over villages. Now you have those of pure heart who want to save their world, so they set off on an adventure to do just that and save imprisoned victims on the way. It's a simple plot idea, but it works well in this case.
The gameplay is fun and adventurous and almost plays out like a classic Adventure RPG, while it's not open-world, you can still explore the small terrain for weapons, items and health materials, all while slashing Creepers, Zombies and Endermen. Minecraft Dungeons also has missions to complete on each section of the map, in order to complete an area, you will have to finish a certain task, such as free the villagers or destroy the cauldron that's brewing up a poisonous mess.
What's also nice about the exploration in Minecraft Dungeons, is that you can not only find items but occasionally, there are buildings and caves you can enter too. They will either serve as a nice area to look around or somewhere you can obtain a special item, perhaps a new weapon or an item that will help you later.
The in-game currency works well and can be obtained by killing enemies, opening treasure chests or exploring secret/hidden areas around the map, the in-game currency can buy you special items like fishing rods that will have a unique feature or new weapons.
Minecraft Dungeons is a very fun game to play and I will most definitely be playing some more, however…
Attention heroes – the Minecraft Dungeons Game Trial is now on! ⛏️🏹🗡️ https://t.co/6SdRgWLDQC

— Nintendo UK (@NintendoUK) August 18, 2021
Minecraft Dungeons Needed Improvements
Framerates and loading screens
There are a few things I would like to touch on with the gameplay in Minecraft Dungeons, the most noticeable thing is choppy loading screens. The framerate often drops below far below 30fps when it comes to the loading screens, as they have opted for a screen that is supposed to pan in slowly, but instead, I get a bunch of random cuts. It doesn't ruin the experience, however, it does leave me wondering if the next screen will load properly and has me wondering if I'll have smooth gameplay. The same thing applies to the opening of the game, the logos have the same problem, with choppy framerates and lag.
Game Mechanics
Another thing that can be improved is the 'rolling' control. Your character can roll left, right, front or back by pressing R while walking, but what irks me about this, is that this mechanic seems to have a cooldown period. Which means I can not roll continuously or dodge enemies straight away if I need to. I can not do two rolls in a row and have to wait a few seconds before pressing the roll button again. This cooldown period is not made known to the player, which means I have to constantly keep my distance from certain enemies if my strength is not high enough to match theirs.
Dialogue
Lastly, I do feel as though it would have been an AMAZING addition to have certain characters have speech bubbles when speaking to us. This would have taken the game up a notch. Perhaps the shopkeeper can as "Need anything?" or perhaps have a small bubble fade on and off the screen when we walk by, this would be nice to hear from the victims we free from cages or any other NPC's hang around each map and camp/default home area. Maybe some great dialogue for the story would be good too. Perhaps it's the fact I've played a lot of story-based RPG's with dialogue, but I thought this might be a great addition.
Overall Conclusion
Overall, Minecraft Dungeons is a very fun game to play. The cliche storyline, the interesting environments and the exploration never leave me bored. I enjoy upgrading my weapons and running around slashing my enemies (especially when I make a good combo attack). This game leaves me feeling challenged and accomplished at the same time.