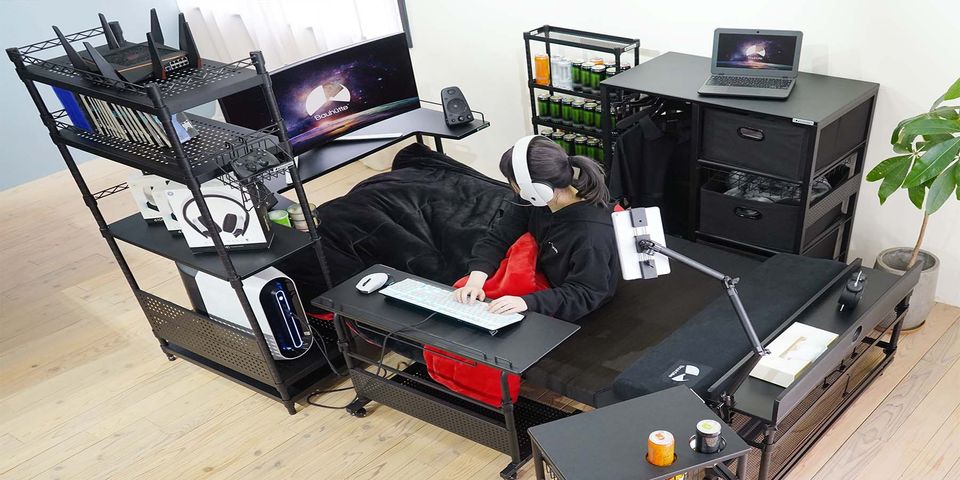 A high-quality Japanese gaming mattress hits sales
The gaming furniture brand Bauhütte is responsible here for creating a new mattress on the market just for avid gamers. The furniture they make is far more conventional, in terms of having items such as gaming chairs and desks. It produces comfy gaming clothes too. In the design, there are slits in the foam throughout the mattress to offer varying degrees of support for the user.
The mattress is designed to make gaming in bed more comfortable. Different sections of the mattress align with different parts of your body. Images of the mattress have been accompanied by frames that give room for desks and shelves; gamers who have a resourceful setup would have the space to do so. There's even a table tray that fits a mouse and keyboard, for those who want the PC gaming experience.
【💥新製品💥】
\✨みんな大好きゲーミングベッドシリーズ✨/

布団の西川に製造を依頼🛏️

禁断のレイアウト、ゲーミングベットのその先へ「ゲーミングマットレス」が発売👾✨https://t.co/iyUjFrkln1 pic.twitter.com/9pLgx8JcTC

— バウヒュッテは大阪の会社だよ!💪 (@bauhutte) September 24, 2021
It might be a good fit for those who want as much gaming in their lives. It is mindful that you may need to figure a way to import it all the way from Japan and consider the currency conversion. Also, the "gaming" aspect which sells this mattress does not differentiate much from other mattresses available on the market. You can sleep and wake up on this mattress like many other mattresses, but at least it indefinitely was created with the "gamer" in mind.
If you are interested to purchase this for your ravenous gaming desires, it would cost between 28,500 yen (£189.68) and 43,500 yen (£289.62) and comes in single, semi-double, and double sizes.