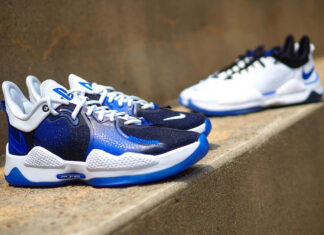 New Nike PlayStation-themed trainers are on their way, following Paul George introducing a PG 2.5 trainer with lights and sounds linked to Sony's console in 2018. There is now a PlayStation 5 pair on their way for his most recent silhouette.
Pictures of the trainers were posted on Instagram in late March, showing the different colours of the PG 5 x PS5 shoe. According to Sneaker Files, both versions will be available to buy in May for $110.
Previous releases of the PlayStation-themed trainers have been limited, just like the console itself. It is likely that the trainers would be hard to get hold off.