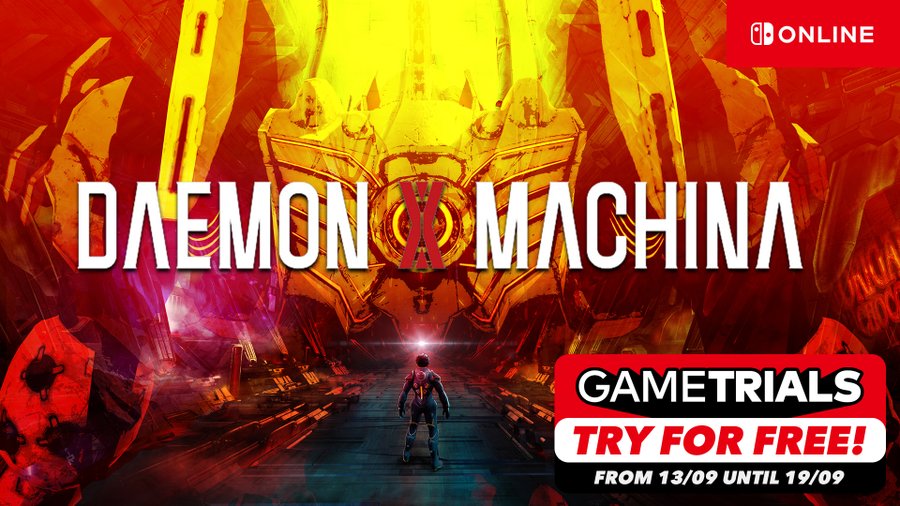 'Daemon X Machina' Free Game Trial For A Week from Nintendo Game Trials
Nintendo has been doing quite a lot with their game trial events and this month it's Daemon x Machina. If you don't know what that is, it is an event that lasts a limited number of days, where Nintendo Switch Online users get to play a  FULL version of a game (rather than just a demo) for a limited amount of time for free. This means they will have access to the full game, which also includes certain features you wouldn't be able to access in a demo. Furthermore, Nintendo allows data transfer, if you reach a certain point of the game, you'll be able to continue from there if you wish to buy the full game. Just like that, you'll be able to start from where you left off after purchase.
Suit up, Nintendo Switch Online members! You can try out Daemon X Machina for free next week.

Download now so you're ready for action when the Game Trial starts 13th September: https://t.co/gqCdz0gSGS pic.twitter.com/aTNFTm2t6X

— Nintendo UK (@NintendoUK) September 6, 2021
What is Daemon X Machina?
Daemon x Machina is a third-person shooter, developed by Marvelous Inc and First Studio. It's a game where mankind is at war with machines, it's filled with fast-paced gameplay and beautiful chaos with a variety of weapons to equip. The plot described by Nintendo: "When the moon fell, mankind harnessed advanced AI to rebuild the world. However, the same disaster saw the arrival of the Immortals, an evil machine race who turned that AI against its masters. Hope for the future became a bitter battle for survival."
As an effect of the unfortunate turn of events "An endless war rages between powerful consortiums and the Immortals in a fight to save humanity." You get to start a journey and join a group of badass mercenaries and look for the secret of the immortals to save humanity before all perish.
This is certainly a fun game for those of you who want fast-paced and action-packed chaos in one sitting. If this game appealed to you, why not check it out here. This is only available for six days and begins on Monday 13th September – 19th September 2021 and will end the midnight of that day. You must have a Nintendo Online Membership in order to have access to the trial.
If you enjoyed this, keep up with all the latest gaming news, competitions, future discounts, special offers (CLICK HERE)and amazing content.
Twitter: @Go2Games
Instagram: @go2gamesshop
Youtube: Go2games.com
Facebook: Go2games.com