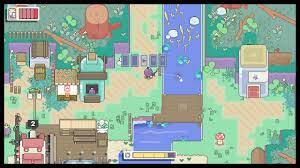 All Games From Nintendo Indie World Showcase, August 2021
Nintendo host a live Indie World Showcase yesterday, the 11th of August 2021. With a wide variety of notable games releasing on the Nintendo Switch. If you don't know, Indie World is a Showcase Nintendo put on every now and then to announce Indie game releases for the Nintendo Switch, usually near the time of a Nintendo Direct, but this time it seems to be a surprise event. Indie World seems to have become increasingly popular with Nintendo Fans, especially those with a Switch Lite, as the games that happen to be played on PC can be quite fitting for a small handheld. The games ranged from post-apocalyptic RPGs to adorable action games, and classics like Tetris. Without further ado, here's a list of All 19 games announced at the Indie World Live.
Astroneer
Axiom Verge 2 
Bomb Rush Cyberfunk
Boyfriend Dungeon
Curious Expedition 2
Eastward
Far: Changing Tides
Gang Beasts
Garden Story
Hundred Days – Winemaking Simulator
Islanders: Console Edition
TOEM
Loop Hero
LumbearJack
Metal Slug Tactics
Necrobarista: Final Pour
Slime Rancher – Plortable Edition
Shovel Knight: Pocket Dungeon
Tetris Effect: Connected
While some of these don't release until 2022, it's nice to have them there to add to our wishlist and know that we have a good line of games to look forward to for the next year on the Nintendo Switch. The most notable games that fans were particularly excited about were Tetris Effect: Connected, Garden Story, Loop Hero, EastWard, Gang Beasts, Axiom Verge 2 and Bomb Rush Cyberfunk.
Where Can You Watch Nintendo's Indie World Showcase?
Nintendo Streamed the Indie World Showcase on Youtube and their official website. Many watchers being on Youtube as that platform has notifications bells and will allow a live chat to take place, where other fans and players can discuss amongst each other, the games at the Indie World Showcase Event. You can have a look at the video down below.
Keep up with all the latest gaming news, competitions, future discounts, and amazing content.
Twitter: @Go2Games
Instagram: @go2gamesshop
Youtube: Go2games.com
Facebook: Go2games.com
You can subscribe to the Go2Games newsletters via the website.