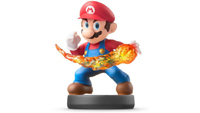 Nintendo's Amiibo Range
Let's take a closer look at what Nintendo's next Amiibo Range has to offer!
These Ambiio figurines are made out of plastic and depict some of Nintendo's most iconic characters. Most impressively, these figures have a built-in NFC technology and will be able to interact with certain Nintendo games in a number of ways. For example, on Nintendo's Mario Kart 8 on Wii U, when a Link Amiibo is adjoined then that character becomes playable in-game.
Nintendo is set to release a new version of the handheld with NFC capability built in as the 2DS, the 3DS, and the 3DS XL do not support Amiibo technology at present.
The previously announced first wave of Amiibo figures are due to ship from November 28, whilst the second wave will be due on December 19, and include: Captain Falcon, Zelda, Diddy Kong, Luigi, Little Mac, and Pit.
Each figurine will individually cost £11 in the UK and $12.99 in the US.
The first Nintendo game set to support Amiibo is Super Smash Bros for Wii U.
Nintendo have also released a trailer showcasing the first batch of Amiibo figurines (Mario, Peach, Yoshi, Donkey Kong, Link, Fox, Samus, Wii Fit Trainer, Villager, Pikachu, Kirby, and Marth) and you can watch it HERE.