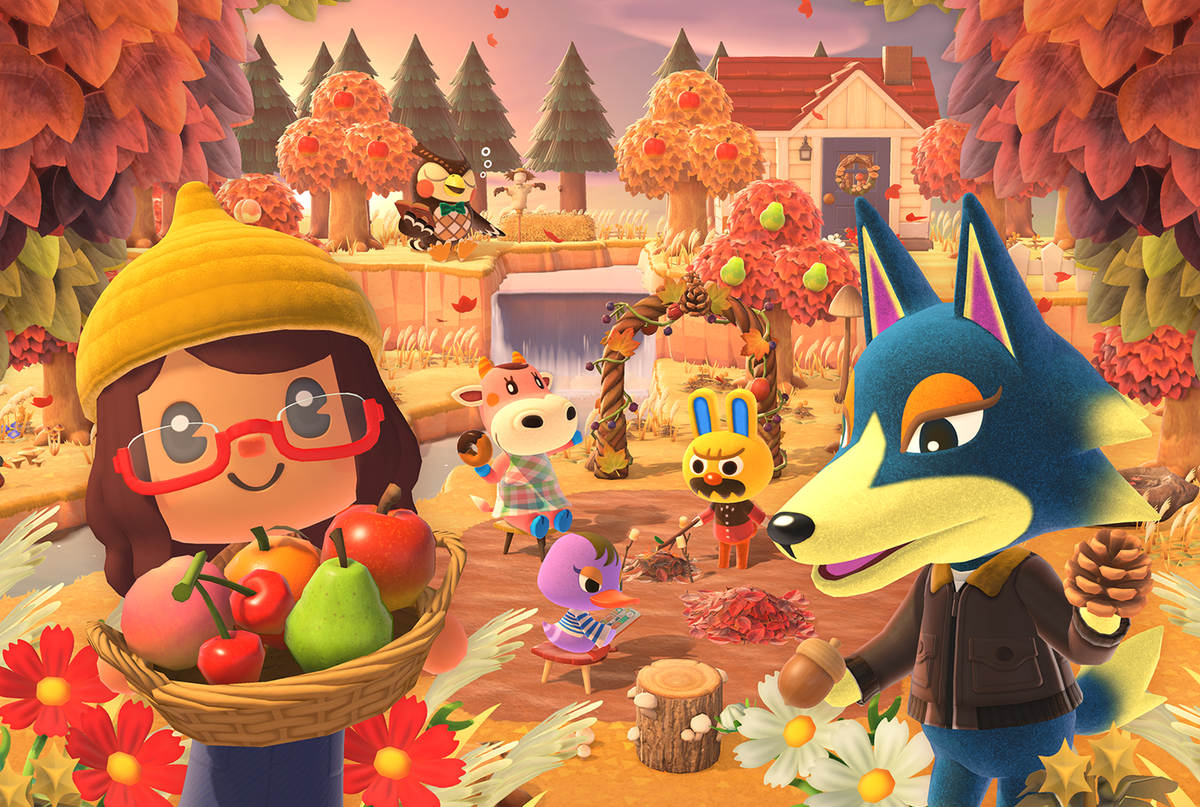 November, the season of transition, from bright green sunny summers to cosy hues of brown, orange, red and yellow falling leaf's, signalling the season of change.
Sometimes we human beings need to stop and slow down sometime, and just breathe, we all have our own way of relaxing and escaping from stresses, such as getting under some warm cosy blankets, sipping coffee or hot chocolate, with a Nintendo switch in hand, playing the game of escapisms, animal crossing.
Animal crossing has always been one of those cosy games where you can escape and forget about the things that are effecting you, as human beings we tend to carry a lot on our shoulders bearing heavy responsibilities, and sometimes we just need to have a little escape.
That's why animal crossing is one of the greatest games you can play, it's a fresh start to building a world where troubles don't exist, as a player all you have to worry about is adding things that you love to your island, and shaping your island the way you want it to look in your eyes.
In the game there are many activities to do, if you've never gone fishing before you can do so freely in animal crossing, it's a wonderful way to calm your mind and breathe from a stressful day, the ambiance sound effects adds more effect, as it invokes feeling as though we are actually out in nature.
In animal crossing the beach is a peaceful place to go and sit down and listen to the calming waves, or you can go swimming and discover all the fascinating sea creatures, and then take them to your museum for your collection of sea life to be on display.
The best part about animal crossing is having your fellow villager run up to you, and ask if they can visit your house, when inside your house with your villager, they will ask you if they can see the other rooms, you walk into another room in your house and they will follow you, and complement your interior design skills. It's very comforting to know you can have visitors.
Wanna go shopping? There are two stores in animal crossing, and an offshore island called Harv's island, where there is a plaza of many stores. Nooks cranny is a cute store owned by Timmy and tommy, you can buy amazing furniture pieces such as, wallpaper, flooring, and tools from their store, everyday the stock changes so grab your bells and get ready to spend.
Ables sisters is a wonderful cosy store owned by the able sisters, and it's the only place where you can buy clothing, it's a cute little store that has many handmade outfits crafted by Sable, just like the season the stocks of clothing changes, ranging from cute coats, to cosy winter boots and socks. In animal crossing you have the freedom to wear whatever you like, even if its miss matched clothing, no one will judge you for your style.
Harv's island, is a wonderful plaza where you can see all the different stores, it's like a market where you can interact with different shop keepers and see what they are selling for the day.
Animal crossing is a game you can lie down under cosy blankets, or a pillow fort, or even a blanket fort, and play for hours on end.