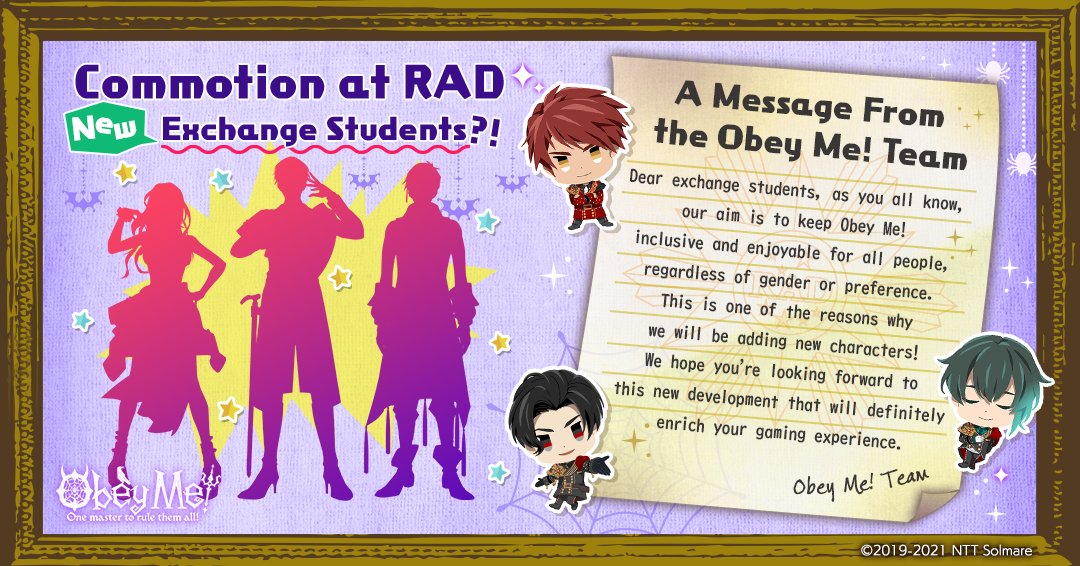 Shall We Date – Obey Me! Will Have New Characters Arriving At RAD
Obey Me! Developed by Game company 'Shall We Date' has become one of the most popular otome games out there. Due to their gender-neutral MC, the player gets to decide who they are, not the writers. They can be any gender or non-binary if they wish. They are one of the only otome games to make an otome game that's inclusive for everyone, they are certainly heading in the right direction.
They've shown three new character silhouettes, we don't know their genders, but fans suspect there will be a female, non-binary and perhaps a trans character being added in the game. This could be potentially added to the new season coming up. Hopefully early 2022.
Special offers on games, bags, items and more!
A message from the Obey Me! Team
"Dear Exchange Students, as you all know, our aim is to keep Obey Me! inclusive and enjoyable for all people, regardless of gender or preference. This is one of the reasons we will be adding new characters! We hope you're looking forward to this new development that will definitely enrich your gaming experience." – Obey Me Team –
It has been confirmed that new exchange students will be joining RAD in the NEAR future! Here are the silhouettes of the new characters. We hope you're looking forward to their presence. Thank you for your continued support of Obey Me! ✨#Obeyme #obeymemasters #obeymejp pic.twitter.com/uf10NeIxLJ

— Obey_Me_Official (@ObeyMeOfficial1) November 20, 2021
Fans are very excited about this option being added, as it allows everyone to be a part of the otome game community. It isn't just one set of personality, gender, character or race. This game is for every and anyone. It will be wonderful to see more humans, angels and demons included not to mention how they'll be added to the plot.
The plot is thickening and with 60 lessons and 3 seasons so far, it'll be season 4 next. It'll be interesting to see what they have in store.
Special offers on games and more!
What is Obey Me?
Obey Me! Is an Otome dating-sim, that doesn't just concentrate on love, in fact, the love aspect is more of a feature as in Obey Me! players get more of a plot with unexpected twists and turns. It's set in a realm called the 'Devildom', where the player is a human who becomes an exchange student in a realm of demons, along with angels and a sorcerer. The future king of the 'Devildom' aims for humans, angels and demons to get along in peace and harmony, hence the exchange programme.
Obey Me! has been successful with over 4 million downloads across 166 countries and have gone from a small otome game app into making Album singles, podcasts, Audio shorts, monthly spin-offs and finally their own anime shorts series. Now, they are adding New Characters!
Earlier on the 2nd of April this year, they released a special anime short to announce they would be starting an anime in the summer, at the time they hadn't announced an official date for when they would start their anime but it did have a lot of fans excited and game them a realistic idea of what to expect in terms of art style, plot and gender representation.
In past Otome games that have been adapted into an anime, they have continuously made the protagonist either a weak, clueless female or a shy male who's a little bit of a pervert. It's never been genderless or had no offensive stereotypes, so Shall We Date has changed that by making the main character look like a sheep plushie, it becomes a running joke in the fandom, game and anime series.
Special offers on and discounts games, bags, items and more!
Keep up with all the latest gaming news, competitions, future discounts and amazing content.
Twitter: @Go2Games
Instagram: @go2gamesshop
Youtube: Go2games.com
Facebook: Go2games.com
You can subscribe to the Go2Games newsletters via the website.