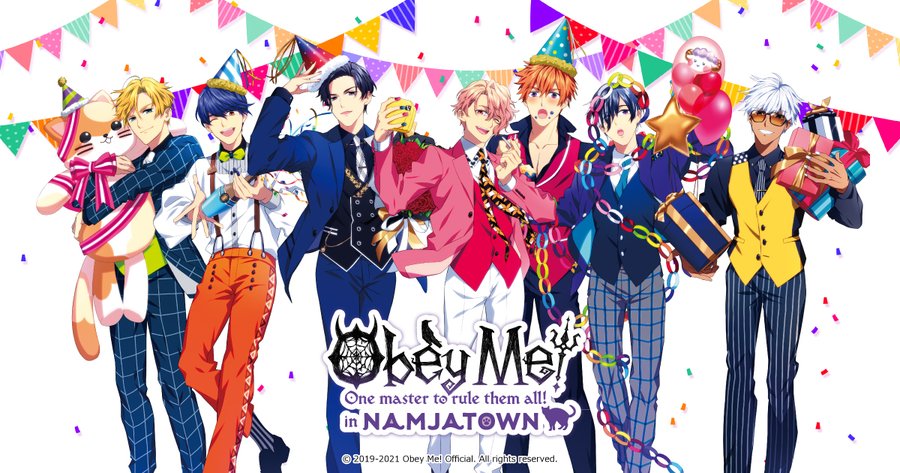 Image: Obey Me! Twitter
The Hottest Otome Game 'Obey Me!' Has Finally Released Their First Line Of Merchandise
Obey Me! Developed by Game company 'Shall We Date' are releasing their first line of merchandise with BANDAI NAMCO. Obey Me! has been successful with over 4.5 million downloads across 166 countries and counting. They've not only started to grow an extremely large fanbase but have started to make album singles, podcasts, audio shorts, monthly spin-offs, their own anime shorts series and their first line of merchandise. They have also released their first full version of songs from their anime series on the 10th of August.
What Obey Me! Merchandise Do They Have In Store?
So far they have created merch for each of the 7 demon brothers, who happen to be the main characters of the story. They each have a special set that comes with a keyring and acrylic stand. They also have a set of badges for each character, one set that is specifically cat-shaped and another set that has a heart shape. Lastly, they have a set of cards, one for each demon character where they have written an evaluation of their fellow human exchange student (the player), each one carrying its own unique aspect from the characters.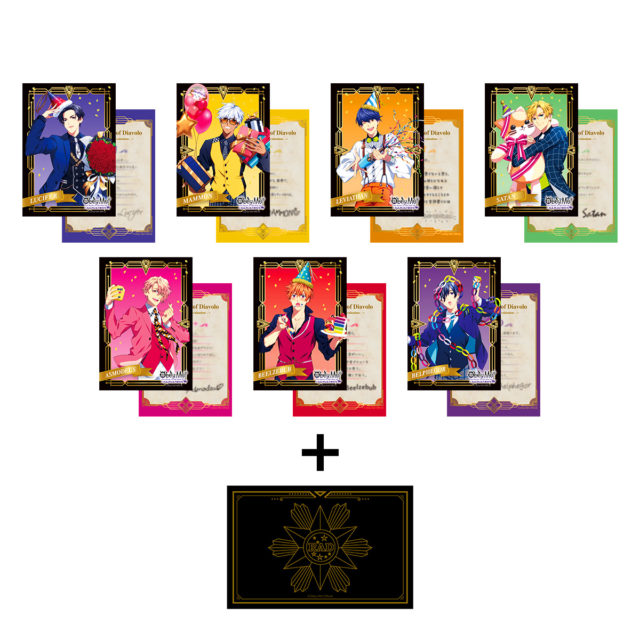 However, it has been said that these items won't be officially shipped and released until 2022, it's just pre-orders that are open for now.
One week left to order Obey Me! in NAMJATOWN original merchandise in the US! 🎉Get your dressed up demon brothers today.😈♪

Pre-orders open until August 16th 10:00AM EDT at PREMIUM BANDAI USA

👉https://t.co/vfYI7iefTR#obeyme #namjatown #premiumbandai pic.twitter.com/M5AxlMklh3

— Obey_Me_Official (@ObeyMeOfficial1) August 10, 2021
Obey Me! All Song Releases
This wouldn't be the first time Shall We Date have released songs for 'Obey Me!' they have released songs for each character as well as songs where those characters collaborate and sing together as a group. However, this will be the first time they released songs from their anime shorts that aired in early July. The first official anime release was aired on the in-game app 'DevilTube' which is available for V.I.P. members only,  free-to-play users will be able to watch the episode aired on Youtube, a week later. Here is a list of their recent releases and previous ones.
Obey Me! Anime Song Releases
Obey Me! All Character Song Releases
Arcadia (Lucifer 1st Born Pride)
Are You Ready? (Mammon 2nd Born Greed)
My Chance! (Leviathan 3rd Born Envy)
Read My Heart (Satan 4th Born Wrath)
Pomade (Asmo 5th Born Lust)
Hungry Six-Pack (Beel 6th Born Gluttony)
Dreamscape (Belphie 7th Born Sloth)
Choose Me! (Levi, Mammon, Asmodeus)
Passion (Satan, Lucifer)
Telepathy (Beel, Belphie)
Sinful Indulgence (Obey Me! Main Theme!)
Celestial Ray (Miura Ayme)
Out August 10!

Ending themes by the Obey Me! Boys

Obey Me! The Anime ending theme: "It's My Party"
Otaku FM ending theme: "Eternal"
↓↓↓https://t.co/s5K8DdOXL2#Obeyme #obeymemasters #obeymejp #SWD #otome #game pic.twitter.com/5ub9MZKDiS

— Obey_Me_Official (@ObeyMeOfficial1) August 10, 2021
Keep up with all the latest gaming news, competitions, future discounts (see down below), and amazing content.
Twitter: @Go2Games
Instagram: @go2gamesshop
Youtube: Go2games.com
Facebook: Go2games.com
You can subscribe to the Go2Games newsletters via the website.