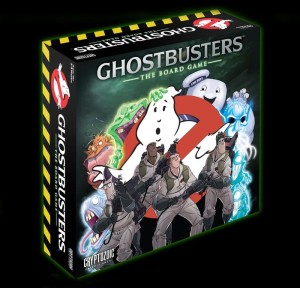 Official Ghostbusters Board Game
The iconic comic design is put in to board game form. How exciting!
Yesterday it was announced, by game developer Cryptozoic, that a crowd funded Ghostbusters board game is in the pipeline and is running now on Kickstarter. Huzzah! The game will feature "ghosts from the movies, cartoons, comics, and toylines."
The Ghostbusters Kickstarter runs until 11th March 2015, but given the current funding amount, it looks like they're on track to hit the $250,000 goal way before that. And why not?! Ghostbusters is awesome! Cryptozoic is keeping things simple with pledge levels – $80 (plus shipping) will get you the base game plus stretch goals. The $125 (plus shipping) level includes a custom box along with the base game, additional episodes, and some other backer-exclusives items. I think I know which one I'd go for… Exclusive items all the way!
Campaigns for the miniatures-focused game will take between 30 minutes and 2 hours, depending on the difficulty that has been selected. The game's figures design comes from IDW Ghostbusters' comics illustrator Dan Schoening. The board game is still an officially licensed project, so you will take on the oh so familiar roles of Egon Spengler, Ray Stantz, Peter Venkman, and Winston Zeddemore. You can fight those ghastly ghouls Slimer and the Stay Puft Marshmallow Man, and ride around in the iconic Ecto-1. Nothing short of brilliant!
The game has been said to ship this October 2015, but Cryptozoic has given this forewarning – "Please keep in mind that this is a projected date. As an experienced board game company, we at Cryptozoic know that unexpected delays can occur during the production and shipping of a game. … In the highly unlikely event that we are not able to deliver the game for some unforeseeable, calamitous reason, we will refund all pledges."
It seems that it's not just an amazing year for video games, but for board games too.. And what could more could you want (hopefully) in time for Halloween?!