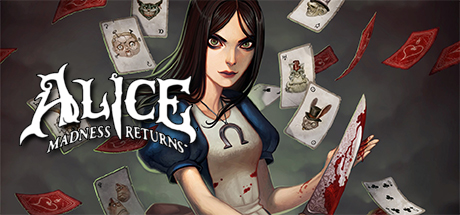 One of my favourites
I, The Morgul Lord of Media, am going to share one of my all time favourite games with you. Aren't you lucky?!…
Now I'm sure that many of you have heard of this one, but what a joy it is to play! It is none other than American McGee's 'Alice: Madness Returns'.
Released in the summer of 2011 and the sequel to McGee's 'Alice', which was released in 2000, 'Alice: Madness Returns' is a psychological horror action-adventure video game which follows Alice Liddell; a girl suffering severe trauma caused by the death of her parents. Discharged from a psychiatric clinic and now living in an orphanage for mentally traumatised orphans, Alice is under the care of Dr. Bumby. She finds herself falling in and out of Wonderland which is now reined over by a new evil. In order to save Wonderland, she has to save herself.
This game is just all round awesome and while I could say "well, call me old fashioned but I'd much prefer a bunch of flowers", I don't! I want the Vorpal Blade! This is one of many weapons that Alice collects during the game, alongside the Pepper Grinder, Hobby Horse and Tea Pot. All of which can be upgraded X4. As well as this, Alice will be dressed in one heck of an outfit upon entering a new domain in Wonderland.
Let's see what else we have to entice you to play if you haven't already… Ah-ha! Well, you can stomp on or squash the Queen of Heart's hearts, save the souls of dead sailors in the gruesome depths, stomp on the Queen's Executioner (I took great pleasure in doing this), jump through paintings in the Caterpillar's level, where the graphics are somewhat scroll like, and (this is brilliant) defeat the final boss whilst standing on a train…that is completely ablaze…and looks like a gothic cathedral on wheels…
So, there you have it.. If this doesn't entice you to play then I don't know what will?! Fantasy, horror, adventure, seriously creepy looking friends as well as enemies, utter chaos and madness! As you can see from the photo above, this game is not for the faint of heart!
If you have any video games that you highly recommend, love to bits and could play over and over then do let us know. We'd love to hear from you! I have to go and slay a Colossal Ruin now, so until next time…