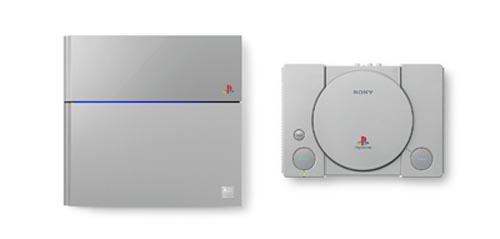 PlayStation 20th Anniversary treats!
Sony reveal a LIMITED EDITION PS4, with an original PSOne finish, to celebrate PlayStation's 20th Anniversary
My, my, my.. Christmas festivities have just gotten a whole lot more festive! Take a look at what Sony have revealed..
All packed up in a very spesh commemorative box, the custom PS4 is resplendent with a familiar silver/grey finish, along with a small insignia etched onto the chassis that shows each unit's unique number. The DualShock 4 controller is coloured in the same way and brings back the original PlayStation logo. An even closer look reveals that the controller's touch-pad has also been embellished with "20" marked in it's pattern.

Shuhei Yoshida, the president of Sony's game studio division, announced the new console this morning to mark two decades of greatness for the business. The console will be available to pre-order this Saturday 6 December, with even further details announced at the PlayStation Experience on the same day! Yoshida also stated on the PlayStation Blog that  "Sony Computer Entertainment, founded by my mentor Ken Kutaragi, was a project borne out of sincere passion and deep admiration for the craft of game development."
Yoshida also went on to say that  "The mid '90s were an exciting time for game developers, driven by the explosion of powerful but affordable 3D graphics rendering hardware and the birth of many young and adventurous development studios. The original PlayStation was meant to embody that sense of adventure and discovery, that sense that anything was possible."
It certainly looks like a grand limited edition indeed and you can watch the unpacking of the beauty HERE, on our 'Exciting Game Trailers' playlist on YouTube.