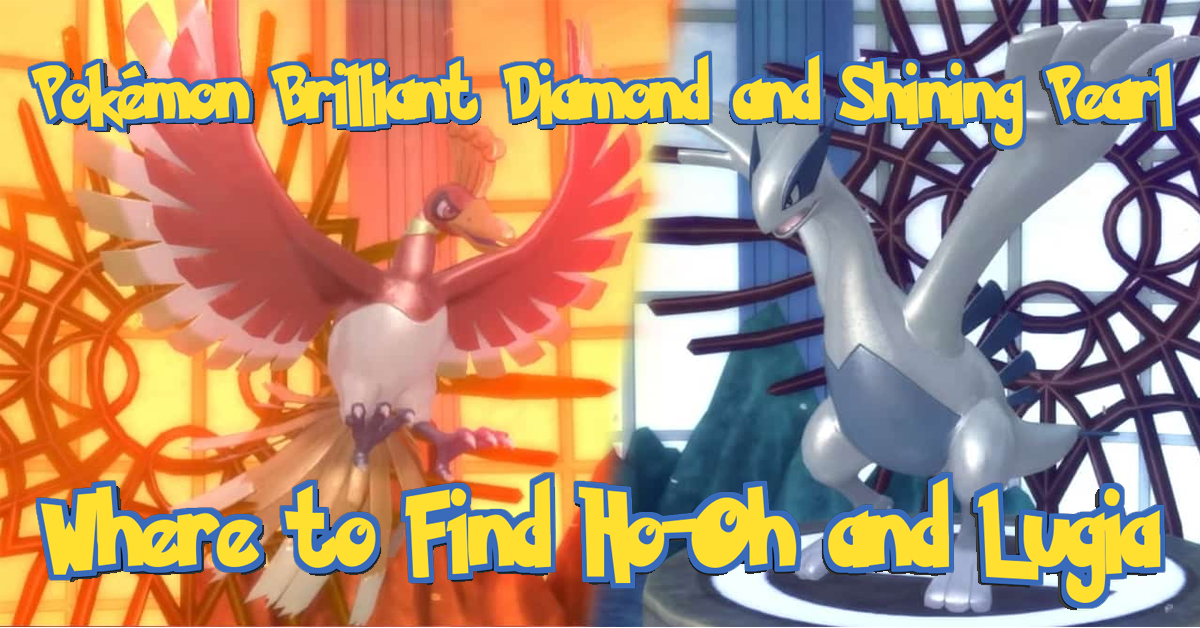 Even though Pokémon BDSP stays mostly true to the original games, the Sinnoh remakes also include a few additional features. These features improve upon the initial game's experience, and provide access to a wider range of Pokémon at different points in the story.
This includes a new way of accessing many of the prior generation's Legendary Pokémon. Classic trios and duos make a return, although some are version exclusive, through Ramanas Park.
Ramanas Park is a new area added to Pokémon BDSP that allows you to exchange Mystery Shards for Slates relating to Legendary Pokémon that can be used to spawn the corresponding mythical beast.
Johto fans should consider themselves lucky, as one iconic pair that can be caught in Ramanas Park is the Tower Duo – those being the Legendary birds Ho-oh and Lugia.
How to Access Ramanas Park
Before you can access Ramanas Park you have to complete the story first. After you've beaten the Sinnoh Champion and seen all 150 Pokémon, you will be given the National Dex. This means more Pokémon from previous generations will begin to appear too.
After getting the National Dex Ramanas Park will become available. To get there:
Head South of Sandgem Town until you reach the shoreline.
Use HM Surf to cross the water East along Route 219.
Carry on through Route 220 and Route 221 until you get to Ramanas Park.
Lugia and Ho-oh will appear in the Squall Room or  Rainbow Room after you have met certain requirements in the park. You can exchange Mystery Shards for Slates that can be found in the Grand Underground. These will spawn the corresponding Legendary, so hopefully you've had a chance to do some digging by now.
Where to Get Mystery Shards
To get Mystery Shards you must dig in the Grand Underground. Use the Explorer Kit to access the underground network of caverns.
Once underground, use your pickaxe to dig into the walls. You have a random chance to dig up some Mystery Shards or Mystery Shard (L). Each Slate costs 3 Mystery Shards or 1 Mystery Shard (L).
How to Unlock Ho-Oh and Lugia in Pokémon BDSP
It's important to note that Ho-Oh is exclusive to Brilliant Diamond, and Lugia is exclusive to Shining Pearl. To be able to catch them in their respective games, you must first purchase the Rainbow Slate or Squall Slate respectively. You'll have to trade if you want both in one game.
To unlock the Rainbow Slate, you must first purchase the other 8 Slates and catch their related Pokemon. Here are the requirements in order:
Buy the Discovery Slate 3x to unlock and catch Regice, Registeel and Regirock. More slates will be available after all three have been caught.
If you are playing Brilliant Diamond – then you must purchase the Johto Slate 3x and catch the Three Legendary Beasts Raikou, Entei and Suicune.
If you are playing Shining Pearl – then you must purchase the Kanto Slate 3x to catch the Three Legendary Birds Articuno, Zapdos and Moltres.
Next up is the Soul Slate that will unlock Latios and Latias. Purchase this 2x and catch them both.
Finally, the Rainbow Slate/Squall Slate will be available to purchase. Take it to the pedestal, and Ho-Oh/Lugia will be available in their respective games.
Overall, this could be quite a time consuming process depending on how lucky you are with finding Mystery Shards. The minimum amount of shards it will require is 9 Mystery Shard (L), with the maximum being 27 Mystery Shards if you have to pay using the smaller ones. The process is worth it however if you want the satisfaction of collecting all the Legendary Pokémon.
Read here for more guides on Pokémon Brilliant Diamond and Shining Pearl!
Pokémon Brilliant Diamond and Shining Pearl is available on Nintendo Switch now. Purchase it from our store!
Don't forget to subscribe to the Go2Games newsletter for updates on the latest gaming news and deals, and follow our socials below!
Twitter: @GO2GAMES
Instagram:go2gamesshop
Facebook: Go2Games.com
Youtube: Go2Games.com
Store: go2games.com