Many fans of the Pokémon series are familiar with the Pokémon trading cards some fans collect them whilst others trade them and use them in Pokémon TCG  tournaments, leagues and for casual play sessions but this Pokémon fan has taken that to the very next level by owning their very own 3D printer and makes their own TCG card stands with an added custom Pokémon figure on each one.
the Pokémon TCG cards has existed for almost as long as the Pokémon series with the first cards being released in October 1996 in Japan. This means that the Pokémon TCG cards were released around 8 months after the release of Pokémon Green (only released in Japan) and around a month after Pokémon Red and Pokémon Blue were released.
The popular table top card game has even been part of the Pokémon world championships alongside the Pokémon video games.
Specific cards from the Pokémon TCG can be extremely expensive such as The Pikachu illustrator promo card (Also known as the rarest and most valuable card) which has been sold at an auction in New York for a mind blowing $195,000! But this next card which is a first edition Charizard card (Generation 1 era of Red and Blue) tops the list of expensive Pokémon cards as it is being sold for a mind boggling £99,995.00!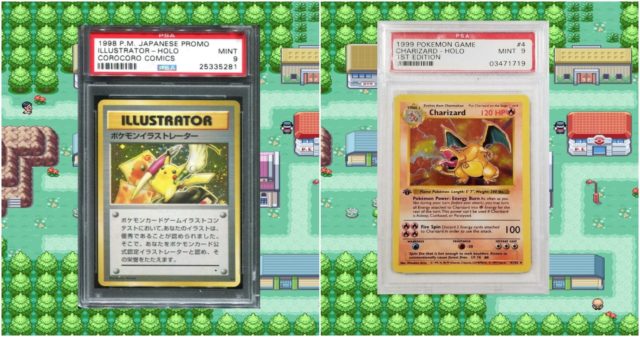 However regular TCG cards can also end up being expensive too as there are scalpers that have used Pokémon fans as a way of making bucket loads of extra money from the cards they sell them. This isn't the last time scalpers have affected Pokémon merchandise as earlier this year when Pokémon came to McDonalds to celebrate their 25th anniversary. There was scalpers buying a mass amount of happy meals in order to sell off the Pokémon figurines included in them to Pokémon fans at very high prices. So when McDonalds eventually found out about this they decided to limit the amount of Pokémon happy meals you could buy and also replaced the figurines with 25th Anniversary celebration TCG cards. These cards are still being sold online today.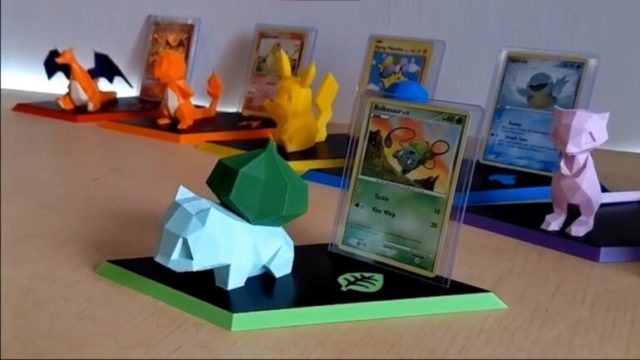 The Reddit user 3demonster has designed and made their own 3d Pokémon stands which are used to display their most valued Pokémon cards. The stand features a 3D printed polygon model of a Pokémon with the card that matches the figure of the polygon model. Each of the stands have a corresponding type that matches up with the Pokémon card and the Pokémon model placed on it. The video features the 3D stands and polygon models of Balbasaur, Charmander, Squirtle, Pikachu, Charizard and Mew. If you look to the right side of Mew's stand you will see a white normal type stand for Pidgey however it is not in focus in the video as the others are.
A lot of the fans, players and collectors that saw these 3D custom made TCG card stands wanted to own them to display their own collections of TCG cards. 3demonster has kindly uploaded the models of the 3D stands online so that others can download and 3D print them locally and there is also a link to download all the original 151 1st generation Pokémon models along with their matching stands allowing visitors that visit the link to support the modeler's work.
According to the post the 3d models were made to upgrade the display of 3demonster's TCG cards. However it has now become an amazing addition to fans, players and collectors of the Pokémon series making displaying cards cooler than ever and its all thanks to 3demonster's beautiful design of the Pokémon 3D models and stands that will be very appreciated for years to come.
Be sure to vote for G2G with these links below:
Croydon awards Vote G2G education + training
Vote G2G Croydon awards+ community
Check out our new voucher codes below:
Use BACK2SCHOOL – For 5% off all Pixie Crew Stock!
Use MOON10 – For 10% off Harvest Moon: One World (Nintendo Switch)        (Ends September 3rd 2021)
Use CODMW5 – For 5% off COD: Modern Warfare (Xbox One)                (Ends September 3rd 2021)
Use T00N5 – For 5% off Splatoon 2 (Nintendo Switch)                             (Ends September 3rd 2021)
Find Go2Games at:
Instagram: Go2GamesShop
Twitter: Go2Games
Youtube: Go2Games.com
Facebook:Go2Games.com
Check out our Go2Games website and sign up to our newsletter to keep updated on our products, offers and news.