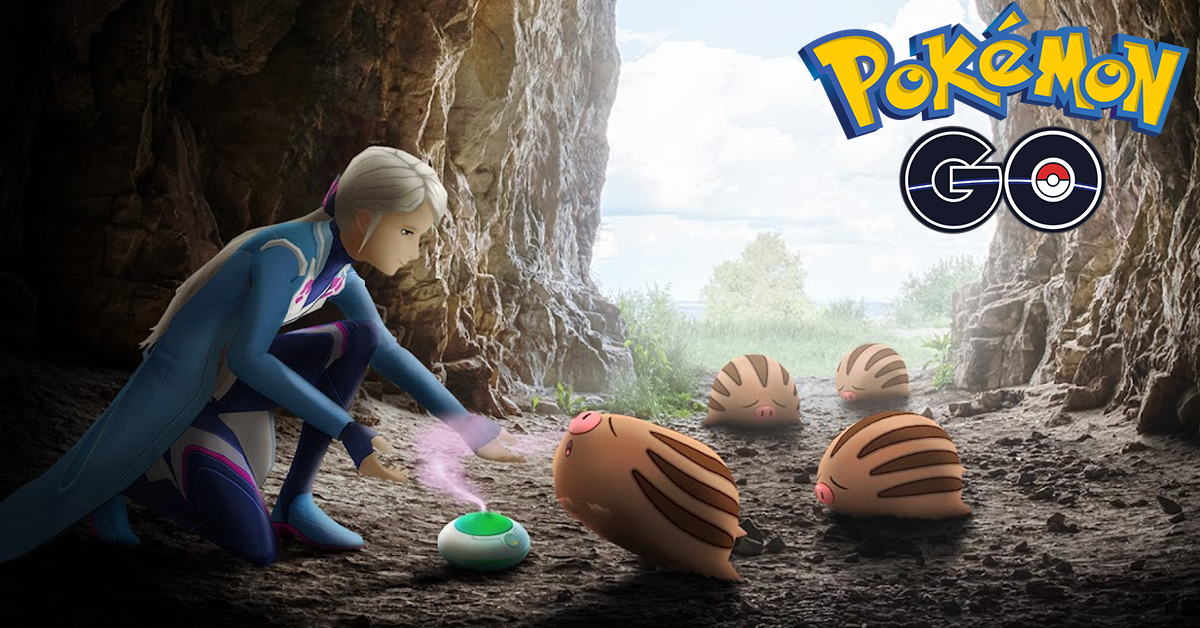 In Pokémon GO, the Season of Heritage event has begun. The Season of Heritage is a special timed event that will last until March 21st 2022 to as preparation for the release of Pokémon Legends: Arceus.
Pokémon GO's Swinub Incense Day Event
A special Incense Day is being hosted to commemorate the event's start which will feature Swinub among a whole bunch of other Ice and Ground-type Pokémon. Swinub will appear at a special Incense Day event which will be on the first Sunday of the month. Blanche and Professor Willow are asking Trainers to catch lots of Ice and Ground Pokémon. They also urge you to collect a lot of Stardust, as part of the new season.
Aside from the possibility of obtaining  Swinub in Pokémon GO, players will also have the chance to capture a shiny version.
During the event, if a player evolves Swinub into Pilowswine and subsequently into Mamoswine, that Mamoswine will know the Charged Attack Ancient Power. Ancient Power hits for 45 power in trainer battles and has a chance to boost the user's attack and defence. Ancient Power deals 70 damage in gyms and raids.



Other Features of the Incense Day Event
The in-game store will have a 1 PokeCoin bundle with two Incense
There will be Event-specific Field Research tasks available
Ice-type Pokémon will be attracted to Incense from 11am to 12pm, 1pm to 2pm, and 3pm to 4pm
Ground-type Pokémon will be attracted to Incense from 12pm to 1pm, 2pm to 3pm, and 4pm to 5pm
Here are the different Pokémon named that will be attracted during the event, as well as some others:
| | |
| --- | --- |
| Ice Type Pokémon | Ground Type Pokémon |
| Seel | Onix |
| Jynx | Cubone |
| Sneasel | Rhyhorn |
| Snorunt | Wooper |
| Snover | Phanpy |
| Vanillite | Barboach |
| Galarian Darumaka (Rare) | Larvitar (Rare) |
Pokémon Brilliant Diamond and Shining Pearl is available on Nintendo Switch now. Purchase it from our store! Read here for some in-game guides to help you out!
Pokémon Legends: Arceus will be released for Nintendo Switch on 28th January 2022 for Nintendo Switch.
Don't forget to subscribe to the Go2Games newsletter for updates on the latest gaming news and deals, and follow our socials below!
Twitter: @GO2GAMES
Instagram:go2gamesshop
Facebook: Go2Games.com
Youtube: Go2Games.com
Store: go2games.com