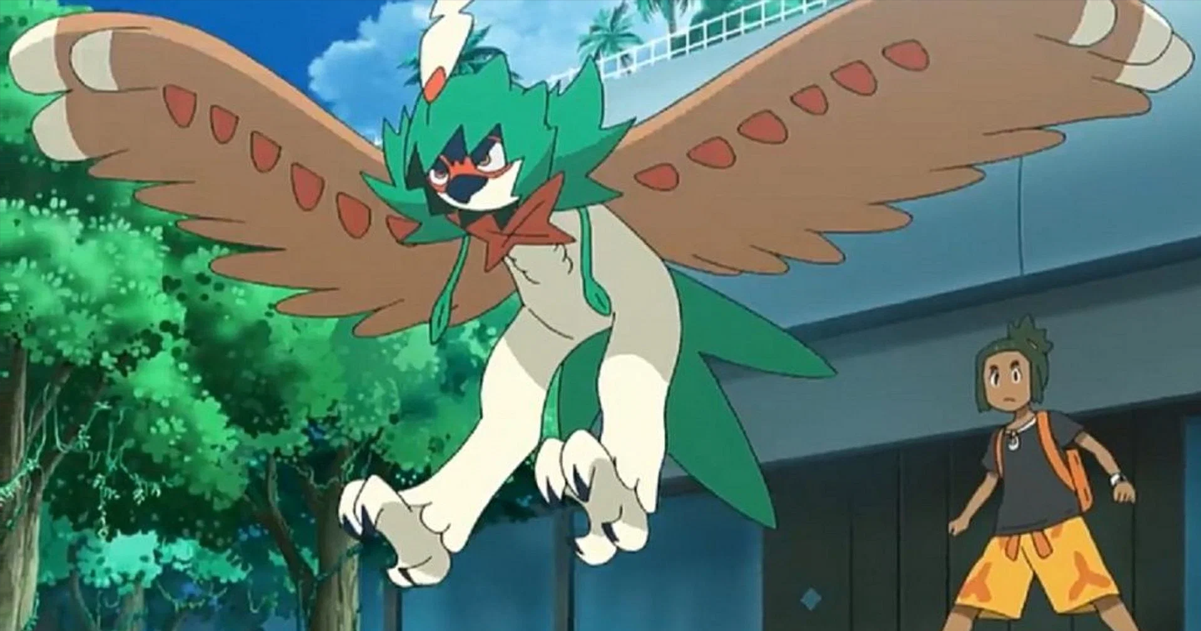 I was pretty disappointed to find out that the last Pokémon being added to Pokémon Unite was Greedent, as I'm sure many others were too. Kind of underwhelming in my opinion, especially as it is a relatively common Pokémon too. The new addition to the game would have made much more sense too, considering it was Halloween. To make up for this though, someone with a lot more flare is being added to the game's roster.
The official Pokémon Unite Twitter account has published a picture that is unmistakably a clue towards the next playable character. It shows a series of green, red, and white feather-shaped arrows shooting downwards. Any Pokémon enthusiast can tell from the image and the accompanying comment that the newest character will be Decidueye.
Nock nock! Who is that flying true like an arrow in the #PokemonUNITE arena? pic.twitter.com/GX4YMVf7RR

— Pokémon UNITE (@PokemonUnite) November 9, 2021
Decidueye is a dual type Grass/Ghost Pokemon who originates from the Alola region, where Pokemon Sun and Moon/Ultra Sun and Ultra Moon are set. It can be obtained as Rowlet, the Grass starter for the aforementioned region.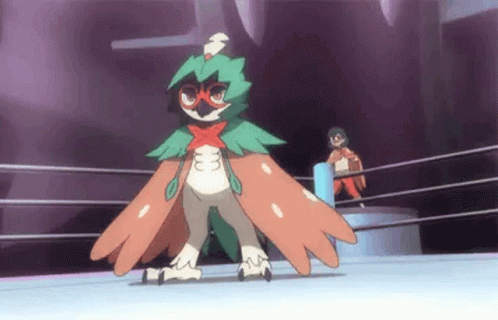 Dataminers Leak Info Discovered in Pokémon Unite's Latest Patch
Following this teaser, a patch was released for Pokémon Unite that brings big nerfs to Greedent and some smaller changes for a handful of other Pokémon. Data-miners have combed through the games files and discovered some key details that confirm Decidueye as the next playable Pokémon. Lots of potential information regarding the next update is available in the Twitter thread posted by user @sobbleunitedm.
Unite License: Decidueye [5/2]
Sorry I forgot this#PokemonUnite #PUSpolier pic.twitter.com/sg5WqZMBQt

— 🔍 Sobble's Unite 🔍 (I want support everyone) (@sobbleunitedtm) November 10, 2021
A Run-Down of Decidueye's Abilities
According to the information that has been released, Decidueye will be yet another Ranged Attacker. However, rather than having excellent mobility and a high scoring rate, it will apparently be focused on both offence and support.
Among the revealed moves are Leafage and Astonish, followed by the ability to pick between Razor Leaf or Leaf Storm, and Spirit Shackle or Shadow Sneak.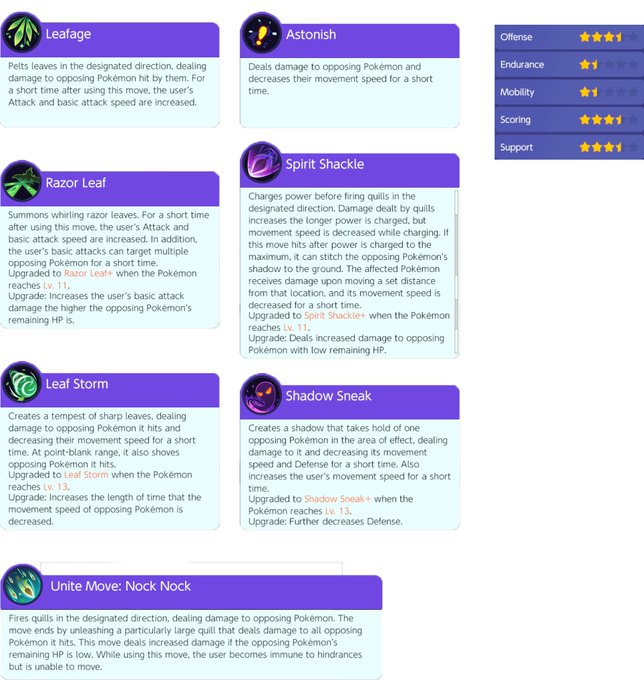 Razor Leaf will deal damage while also enhancing Decidueye's stats and basic attacks, whilst Leaf Storm will deliver damage while also slowing opponents. Spirit Shackle is a charged attack that slows a Pokémon and deals extra damage under certain conditions, whereas Shadow Sneak is a more direct attack that reduces an opponent's movement speed and Defense stat while increasing Decidueye's movement speed.
Its Unite Move is called Nock Nock, and it shoots a stream of quills in a fixed direction while remaining stationary, similar to Cramorant's Unite Move in some ways. Furthermore, Decidueye's ability is Long Reach, which causes it to do greater damage to opponents who are hit from a distance.

Rowlet appears to evolve into Dartrix at level five, and subsequently into Decidueye at level seven, in accordance with its move progression. The archer's Unite License is said to be rather expensive, costing 10,000 Aeos Coins or 575 Aeos Gems.
Keep an eye on the go2games blog for all the latest news on all things Pokémon!
Pokemon Brilliant Diamond and Shining Pearl on Nintendo Switch are scheduled to release on 19th November. Both are available to pre-order from our store now!
Don't forget to subscribe to the Go2Games newsletter for updates on the latest gaming news and deals, and follow our socials below!
Twitter: @GO2GAMES
Instagram:go2gamesshop
Facebook: Go2Games.com
Youtube: Go2Games.com
Store: go2games.com