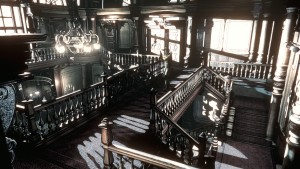 Resident Evil HD
The remaster breaks sales records and becomes the fastest selling digital game in Capcom's history!
Resident Evil HD Remaster has broken all sales records for Capcom. Well done chaps! The game, which launched on 20th January 2015 across PC and console, has become the fastest selling digital game across Europe and North America, for the company. This was announced by the publisher yesterday.
"It's been great to see so many positive comments from fans that have enjoyed this new release," producer Yoshiaki Hirabayashi said in a statement. "The team here at Capcom Japan have worked hard to bring the game to the latest generation of consoles and we are thrilled at this news on its performance."
The game also broke PlayStation Network records, being the "biggest selling day one digital title", Capcom has added. Separately to this, Sony has announced that Resident Evil HD Remaster was the top-selling PS4 & PS3 game of this January. Even despite it arriving later on in the month!
Looking to the future, Capcom has more Resident Evil games in the works, including the episodic Resident Evil: Revelations 2 and maybe even a Resident Evil 7. Perhaps strong sales of Resident Evil HD will encourage Capcom to develop the Resident Evil 2 remake that fans have been simply dying for…
Resident Evil producer, Yoshiaki Hirabayashi, has left a special "thank you" message which you can view HERE, on our 'Exciting Game Trailers' playlist on YouTube.