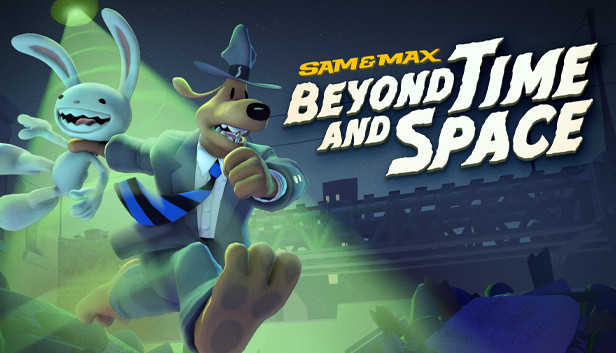 The dynamic duo are coming back, hopefully better than ever! Sam and Max: Beyond Time and Space is set to be remastered which will see our favourite detectives return to our screens looking sharper than ever before. The second season of Telltale Games' series of episodic point-and-click adventures will see its squeaky clean edition unveiled on 8th December for Xbox One, Xbox Series X/S, Switch, and PC.
For those unfamiliar with the pair, they first made their appearance in 1987. This was as a comic called Sam & Max: Freelance Police written by Steve Purcell. Subsequently, the cartoons quickly gained cult status which started this thirty year relationship, culminating in a transition from comic books to a LucasArts' graphic adventure game.
First released in 2007, Beyond Time and Space follows the insanely wacky mishaps of crime-fighting dog and bunny Sam and Max, who made their video game debut fifteen years earlier in Hit the Road. Take a quick look at the upcoming remastered games trailer right here below:
Sam And Max Make A Triumphant Return On New Consoles
This new remaster will be developed by Skunkape, who recently acquired the rights to Telltale's Sam and Max adventures in 2018. Unfortunately this was because Telltale had to shut its doors, but luckily many of the team  worked on the original games back in the day.
However, fans of the series do not despair. Whilst it isn't Telltale, Skunkape are more than capable of providing us with a Sam and Max remaster which we deserve. This was evident at the end of last year, when we were treated to an impressively thorough remaster of Telltale's first Sam & Max season, Save the World. This has made us even more hyped to see what they can do with the second season. Here's what they had to say on their upcoming remaster:
"Sam & Max are back on the crime beat in a showdown with Santa Claus, a race to subdue a giant volcano, and a face-off with a Eurotrash vampire. And then things get even weirder."
What can we expect to see in this remaster? If the last one is anything to go by, we'll be greeted with enhanced graphics, improved lip-syncing, lighting enhancements and a 16:9 aspect ratio with higher resolution support. Not only this, but on the new consoles we should have high quality audio and game pads which can be used alongside mouse and keyboard.
Come back here for more news on the remaster when we have it! In the meantime, check out this article on another famous detective. Additionally, check out this awesome police LEGO set which will make anyone's Christmas that bit better this year!
Sign up for our newsletter from the website.
Instagram: Go2GamesShop
Twitter: Go2Games
Youtube: Go2Games.com
Facebook: Go2Games.com