With a new screw… yes, a new screw.
Sony has recently quietly launched a new PlayStation 5 model, set to first launch in Australia.
There are likely no drastic changes in terms of console functionality, but there are some slight tweaks. This updated batch of the in-demand console was found by Aussie outlet Press-Start to contain a revised serial number, a slightly lighter weight, and a new, more manageable screw.
The new screw is an updated version of the screw used to attach the console's base stand. The removable tie lets you move the stand to orientate the console in horizontal or vertical positions. The new version is designed so it can be adjusted by hand rather than requiring a screwdriver.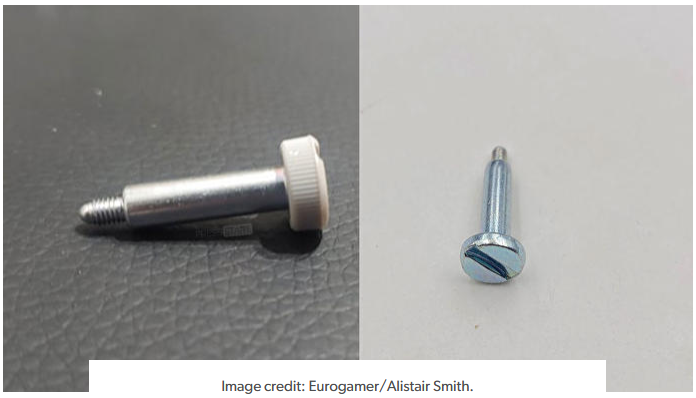 The model is also slightly lighter, by 300g. But we'll have to wait for a closer look inside – no one has yet reported cracking one of the new models open to take a look. However, any changes aren't likely to be too significant if going unannounced by Sony. It's not unusual for console manufacturers to tweak console models from time to time, as certain parts become cheaper or easier to find.
It is unknown when this updated version will launch in the UK, but we will inform you as soon as we know. At the very least, a revised model should give hope to those still trying to buy a PS5. It suggests that manufacturing efficiencies have been made, perhaps leading to a more consistent supply of stock moving forward.
For more updates on exact changes and UK arrival times, watch this space.
Go2Games has been nominated for two separate awards (by the Croydon Awards) for our efforts in our community. The first award is for community collaboration in response to Covid-19, and the second, for Covid-19 business commitment to education, training, and skills. Any votes from our fellow Go2Gamers would mean the world to us. You can click on the above links for more information on the individual awards and to vote.
To keep updated with the shop activities and weekly competitions, follow Go2Games on social media:
Instagram: Go2Gamesshop
Twitter: Go2Games
YouTube: Go2games.com
Facebook: Go2Games.com