More Star Wars news for all you force-wielding fanatics out there! In anticipation for the hotly anticipated arena shooter Star Wars: Hunters, the developers have announced two new characters and two new maps. Let's check them out, shall we?
Firstly though, it's important to remind those who aren't as familiar with the upcoming game what they could be getting into. The 4v4 arena battler will be hitting our iOS, Android and Switch screens as a free-to-play title, and looks to allow synchronous cross-play between platforms. This is how the official website describes the latest Star Wars adventure:
"Join the greatest Hunters from across the Star Wars™ galaxy on the planet of Vespaara where high-stakes competitions are awaiting them in The Arena. Engage in thrilling third person combat to dominate grand battlefields set in a range of adventurous maps that evoke iconic Star Wars worlds. Mix and match teams, use skill, tactics and customize your Hunters to find a winning strategy and reap the spoils of victory in the all-new free-to-play game".
Obviously, every Star Wars fan cannot wait to get there hands on this one! With a mixture of iconic locations across the galaxy, we've kept you waiting long enough to see what new ones have been announced, so let's delve right into it then!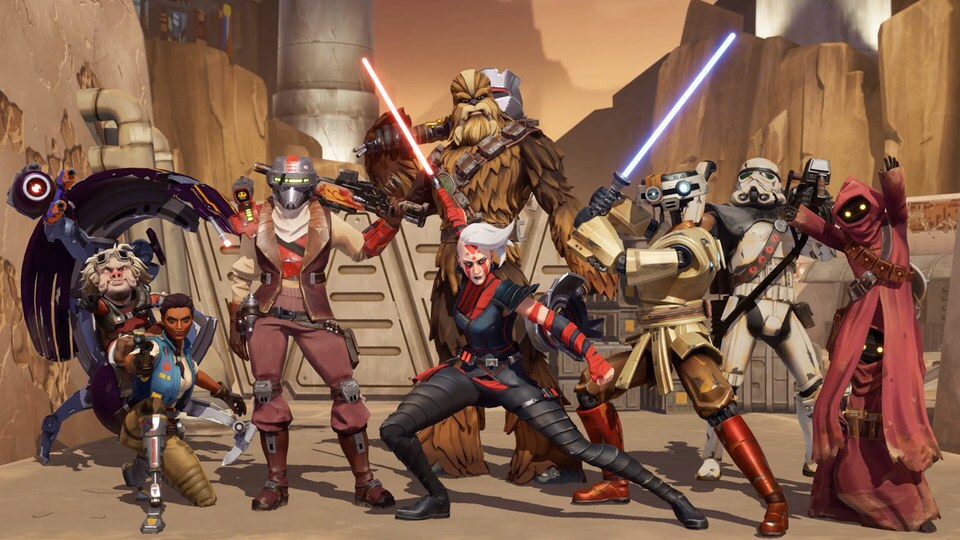 New Characters And Map Heats Up Star Wars Hunters Hype
After showcasing the game play trailer a few months back, it's safe to say we've all been desperately waiting for another update! Thankfully, we've finally got something which tickles our fancy!
Let's have a look at the new Hunters first then. The first new character is called Skora, a Rodian cartel doctor whose kit allows her to heal allies and deal damage to her foes. Sounds pretty good, right? We're sure she's going to come in particularly handy when you've got some rookies in your ranks.
The other new Hunter is quirky-looking Mon Calamari named Sprocket, a tech genius commanding an arsenal of droids with both offensive and defensive capabilities. Both the new characters are supports, with the game's simplified class system split between damage dealers, supports, and tanks.
The new maps being added to Star Wars: Hunters include Dusty Ridge, and a new Escort map called The Great Hunt. In this map, players will be tasked with escorting a massive harpoon through the Tatooine desert.
Not only this, but it looks like we'll be getting a new game mode too! Well sort of. Huttball will be making a return after appearing in Star Wars:The Old Republic. However, developer Jeff Hickman has said that the Hunter's version will be unique, so we'll just have to wait and see how that pans out.
What do we all think about the news then? Are you excited to get your hands on another Star Wars adventure? If you're looking for another Star Wars game in the meantime, then you know where to go!
Sign up for our newsletter from the website.
Instagram: Go2GamesShop
Twitter: Go2Games
Youtube: Go2Games.com
Facebook: Go2Games.com
Store: Go2Games.com