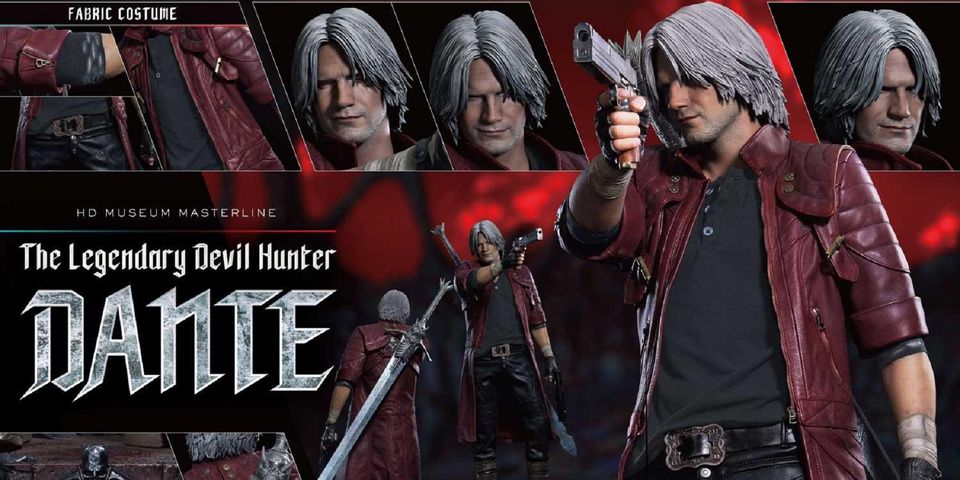 Prime 1 Studio have recently revealed the High Definition Museum Masterline Devil May Cry action figure which is a 1/2 scale recreation of the legend that is Devil hunter Dante. This is not the first time that they made a sculpture of a Devil May Cry character but it may be the most expensive Devil May Cry Figure yet.
This scale model will stand at 43 inches tall, weigh 30 Kilograms and comes armed with his beloved sword Rebellion and his signature guns Ebony and Ivory.
Prime 1 studio recently tweeted some more info on this excusive figure see bellow for the link to the tweet.
祝!デビルメイクライシリーズ20周年!!
伝説のデビルハンターが、まさに実在レベルのクオリティで立体化!
1/2 Scale DMC5 ダンテが受注開始!
究極のコレクターアイテムが登場です。
受注はコチラ:https://t.co/MSdsztcuFT#DevilMayCry#Prime1studio#DMC5 pic.twitter.com/z1O07YxSUb

— Prime 1 Studio (プライム1スタジオ) (@Prime1Studio) August 23, 2021
Now the price prepare to blown away as it costs $2,699.00 ideal for massive fans of the Devil May Cry Series who are willing to splash the cash on it.
But that's not all Prime 1 Studio now also have a special Black Label version in which it has 2 swappable head parts. One of the head is coated in Polystone and the other in silicone and a full head of synthetic hair However if you thought the first one blew you away with the price well that's now been beaten by wait for it $4,299.00 for the special Black Label version.