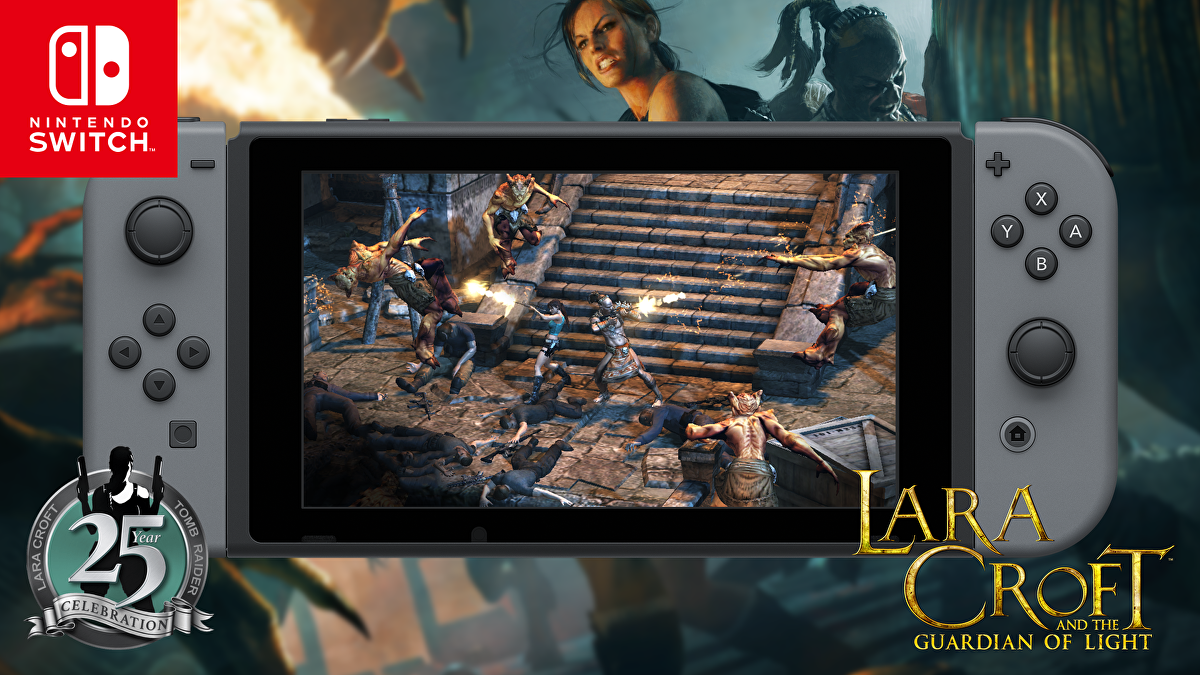 It's the news we have all been waiting for but it might not be exactly what you expected…
Tomb Raider celebrated its 25th anniversary earlier this week and this is certainly one piece of news we can celebrate with.
Yes, that's right, Lara Croft is finally making her debut on Nintendo Switch. Square Enix announced Tomb Raider will be ported to the handheld console to arrive in 2022, yet it might not be the games you are expecting.
Tomb Raider on Switch
If you were hoping for the games being ported to be the original trilogy, I am afraid you will be disappointed. Yet there's still hope if the games chosen have a high success rate.
There will be two Tomb Raider games that will be ported to Nintendo Switch; Lara Croft and the Guardian of Light and Lara Croft and the Temple of Osiris, The two games are isometric action-adventure spin-off titles that were released on PS3, Xbox 360, PC, and iOS in 2010, and on PS4, Xbox One, PC and iOS in 2014 respectively.
The games were originally developed by Crystal Dynamics and will be ported by Feral Interactive, which has ported Alien Invasion and Grid Autosport to Switch previously.
Lara Croft and the Guardian of Light sees players control Lara as she tries to defeat the evil Xolotl, a 2000-year-old 'Keeper of Darkness' who's been resurrected in Central America. Lara Croft and the Temple of Osiris was the sequel and both games had multiplayer options, with the sequel increasing the option to have 4 players, each controlling a unique character with different players.
While it is easy to say the main title games would have been something for fans to get more excited about, Nintendo Switch is the perfect console to port these co-op games to since players will have the option to play it alone or with friends/family which the Switch has always had more variety in terms of games on offer that can be played with other people.
Hopefully, this is only the beginning of seeing Lara on the Switch and if Square Enix ever decides to remaster the original trilogy, we will get to see them on Nintendo Switch too.
Square Enix also announced its mobile game, Tomb Raider Reloaded will give players the option to decide which voice actor they would want to hear in the game. Players will be able to choose from, Shelley Blond, Judith Gibbins, Jonell Elliott, and Keeley Hawes (personal fave) as they play as Lara Croft.
Grab these voucher codes for our website for some discounts! Offer ends November 1st!
Use HALLOWEEN5 for 5% off our Halloween Games
Use ARKEVOLVED10 for 10% off ARK: Survival Evolved (Code In A Box) (Switch)
Use ULTRAMOON10 for 10% off Pokemon Ultra Moon Fan Edition (Nintendo 3DS)
Use ULTRASUN10 for 10% off Pokemon Ultra Sun: Fan Edition (Nintendo 3DS)
Sign up for our newsletter from the website.
Instagram: Go2GamesShop
Twitter: Go2Games
Youtube: Go2Games.com
Facebook: Go2Games.com