Yesterday was the 25th anniversary of the Tomb Raider franchise and here's a list of all the reasons it is so beloved by everyone.
Lara Croft has been a household name in what feels like forever, yet it has only been 25 years since the first Tomb Raider game dropped on SEGA Saturn. The franchise that was brought to you by Eidos Interactive, Crystal Dynamics, and later on, Square Enix carved a piece of video game history and has become one of the most popular franchises to date, let alone made Lara Croft one of the most famous heroines of all time.
Since the first video game release, it has been ported to many different consoles and has 19 games released in total, including the original trilogy, the reimagined trilogy during the 2000s, and the rebooted trilogy in the 2010s that sees a much younger Lara Croft in a more gritty setting. It has also had 3 movie adaptations, a Lucozade ad, a Guinness World Record, and so much merchandise you can get your hands on.
So here's my mini piece on what Tomb Raider has meant to me throughout my life.
25 Years of Tomb Raider
Most fictional characters I love have had a huge impact on me in terms of how I shape myself and what attributes they hold that I resemble the most with, and one fictional character that has had a constant presence in my life is Lara Croft.
I remember as a little girl watching my Dad play Tomb Raider on the PC after he finished work and bonding with my brother as he played his version on the PS1. I couldn't play the campaign as I was too young, but I still remember the adrenaline-pumping soundtrack that played during the 'Lost Valley of the Dinosaurs' level as Lara takes on a T-Rex. It gave a convoluted concept of what archaeology consisted of (as did most fictional archaeologists), but I loved it at the same time.
However, I was allowed to play the brilliant concept of Croft Manor, which was essentially a place for Lara to train and carries on through most of the games, giving Lara more and more mini-quests to complete and unlock bonuses, like in the trilogy that starts with Tomb Raider: Legend. It also included a butler who would frustratingly follow you everywhere and you would have to lock him in the fridge just to get him to stop. (That wasn't just me, right?).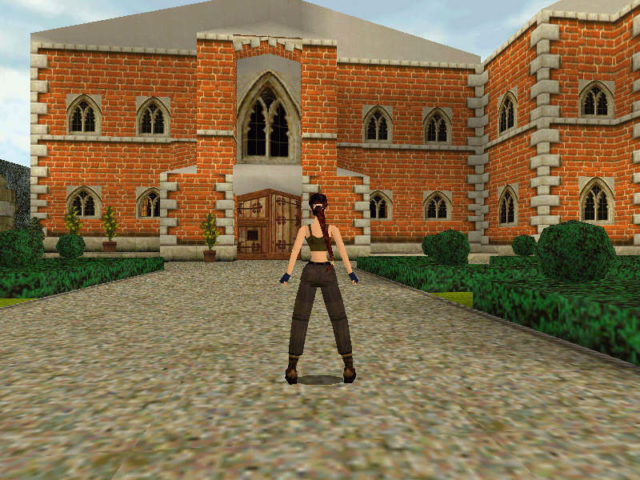 Eventually, I was old enough to be able to purchase a PS2 for myself and I set my eyes on the new revamped trilogy that will always have a place in my heart. I played Legend the most, thanks to the fact I lost my PS2 memory card so would constantly have to start from the beginning but I honestly didn't mind one bit. The other games followed after when I got my hands on a PS3 and the rest is ancient history.
Lara Croft is going to continue to have an important place in my life as much as it does for plenty of people around the world and cannot wait to see what we have waiting for us in-store, like the sequel to the 2018 movie and the Netflix anime series, and hopefully, a new game on the way too that people discovering it for the first time can immerse themselves in.
Tomb Raider 25th Anniversary Fanart
Guys its the 25th Anni and I finally managed to make the TRL reimagined cover art just in time! Hope you like it, what do u think? ♥️
( I might dropp the full res and no logo soon)#TombRaider #LaraCroft #TR25 #b3d #Legend #3DModel #SquareEnix @tombraider @Rinoaaa ☺️ pic.twitter.com/aqvpX1xXnY

— Konrad Majewski (@KonradMajewsk11) October 25, 2021
Happy 25th anniversary Tomb Raider! #TR25 i'm workin on a new artwork for TR2013 month so stay soon ! <3 pic.twitter.com/g98TMTyMhC

— Nam Phương Đặng 鄧 🇻🇳 (@PePhung24) October 25, 2021
This is my contribution to this week so important to Tomb Raider fans. Especially for the fans of the classic era who are dreaming with remakes of classic games.
Happy #TombRaider25
Let's not give up hope…@tombraider #TombRaider #LaraCroft #TR25 pic.twitter.com/IRroOr02Sp

— Giovanni Lucca (@GiovanniLucca85) October 25, 2021
Grab these voucher codes for our website for some discounts! Offer ends November 1st!
Use ARKEVOLVED10 for 10% off ARK: Survival Evolved (Code In A Box) (Switch)
Use ULTRAMOON10 for 10% off Pokemon Ultra Moon Fan Edition (Nintendo 3DS)
Use ULTRASUN10 for 10% off Pokemon Ultra Sun: Fan Edition (Nintendo 3DS)
Sign up for our newsletter from the website.
Instagram: Go2GamesShop
Twitter: Go2Games
Youtube: Go2Games.com
Facebook: Go2Games.com