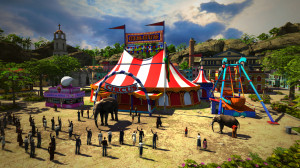 Tropico 5
The simulation game will be hitting the Xbox 360 next month and PS4 next year
Publisher Kalypso Media have announced that Tropico 5 will be released on November 11 for Xbox 360! The simulation game originally launched for PC earlier this year in May.
There's more! A limited edition of the game will be made available to the 360 and shall include the following: 
The Bayo del Olfato DLC
Bonus The Big Cheese DLC
A printed Tropico passport
A Tropico postcard
Tropico 5 for the 360 will be available at brick-and-mortar retailers, as well as on Xbox Live, and the PS4 edition will be made available in "early 2015".
Upon it's initial PC release, the game had broken franchise sales records back in May and was later released for the Mac last month.
Kalypso have also published a trailer for the 360 game, which offers a "brief overview of Tropico's booming llama industry, slightly below-average housing standard, and overwhelming natural beauty." You can watch the trailer on our 'Exciting Game Trailers' playlist on YouTube HERE. This video is age sensitive.