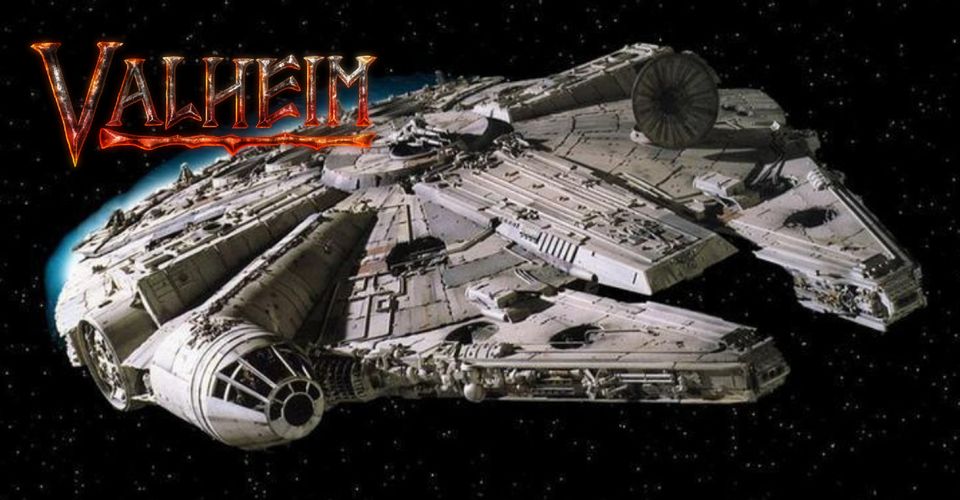 One player took advantage of the building mechanics in Valheim, using the construction to recreate the Millennium Falcon.
Valheim, produced by Iron Gate AB is the most recent game to take over Steam after its release onto Early Access this month. Within 17 days Valheim sold over three million copies, succeeding the sales of other popular games such as Grand Theft Auto 5.  One reason for Valheim's  huge success is due to the game's building mechanics, which allowed the fan to recreate the Star Wars' Millennium Falcon in the form of a Viking longship.
Valheim is a survival game which allows players to use the building feature to shelter from external forces. Many fans use the mechanical feature to their advantage just like Animal Crossing: New Horizons has shown, and Colonel-James-Parker a Reddit user is included in this.
Colonel-James-Parker uploaded a video of their Millennium Falcon 'test build' to the r/Valheim subreddit, which is said to have taken them around half a day to create. They used debug mode console commands to help recreate the Viking lonship.
"Chewie, we're home." / I present you the Millennium Longboat. (test build) from valheim
Within the video the user showcases the inside of the Millennium Falcon, which was created to be as accurate as possible. Valheim offers players a comfort system allowing them to decorate their builds with the ability of stamina to recover from attacks, and so is important to design your longship accordingly.
The game has a large community of players who join each other to survive the Nordic weather. Early Access has laid out a roadmap plan to add a larger variety of mechanics including ship customisation. The game has received a lot of attention after its release onto steam, and is likely we will see more creative structures in the future.