There's a new handheld device coming our way that has the potential to take on all handheld gaming consoles before it.
Valve, the American video game developer, announced its latest product last night, the Steam Deck: a handheld device that will allow you to play Steam games on the go. The Nintendo Switch-like device is set to be released in December, starting at £349.
Yet the device is promising a lot with its features- if it isn't too good to be true.
Steam Deck's Features
The Steam Deck has a 7-inch touchscreen, two thumb pads, a D-pad, a four-button layout, and eight triggers on its back: four on the device's shoulders and four where the ring and pinky fingers rest. There will also be two trackpads on either side of the machine, specifically added for games that were never designed to be used on a handheld device, to help with aiming, shooting, and moving cameras around.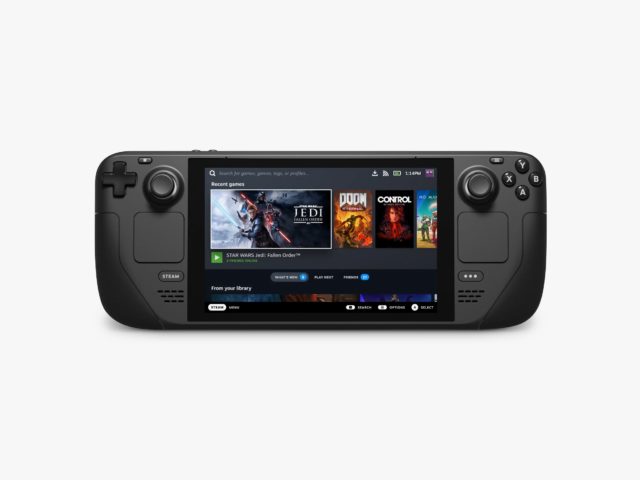 However, what will separate this from any other handheld gaming console is that users will be able to install and operate PC software on it. They will be able to use web browsers, visit online game stores other than Steam, and use video-streaming services. It will also come with a dock that has ports for a keyboard, a mouse, and Ethernet, as well as the ability to connect to external displays.
The Steam Deck will also come with a Cloud saving feature that will allow users to be able to save files between their console and PC. It will operate on a modified SteamOS, giving you access to your Steam library as well as the ability to chat with your friends.
The Steam Deck will have a resolution of 1280 x 800 pixels and a 60-Hz refresh rate, and depending on what version you buy, will either have 64, 256, or 512 GB worth of space, plus microSD card slots for even more storage. it is stated to have 26 GB of RAM and the battery life is set to last 7-8 hours.
As stated previously, prices start at £349 with the 64 GB storage. The highest price is £569 for the 512 GB storage that includes a few exclusives as well.
Valve has a history of gaming hardware that doesn't always work out and ends up being abandoned by the company, so it will be interesting to see if this does live up to the hype. What do you think? Could this upsell the Nintendo Switch?
Go2Games are up for awards! If you enjoy our content, please find some time to vote for us here and here!
Sign up for our newsletter from the website.
Instagram: Go2GamesShop
Twitter: Go2Games
Youtube: Go2Games.com
Facebook: Go2Games.com