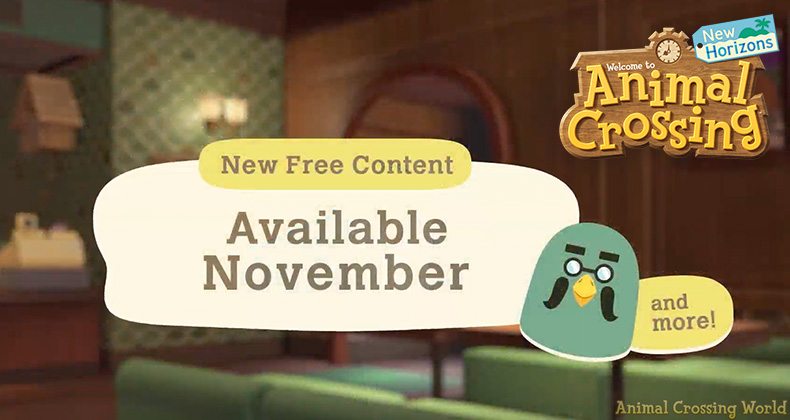 What does the Animal crossing New Horizons Direct really hold for us?
As you may know, Nintendo has announced that they will have an Animal Crossing Direct this Friday – 15th October at 3pm BST. So far we've been given little information, but we have heard from fans who enjoy going through the data mines and predicting the content we could possibly get in the future. Players' engagement with Animal Crossing New Horizons has decreased significantly since the game launch in March 2020. Gamers are playing less and less, some haven't played in months, (I may be a little guilty and perhaps made my lazy villagers Weber and Sherb cry). Not to mention, Animal Crossing New Horizons and Nookazon Discord had over 500,000 members engaging up until May 2021, while people are still shown to be online, there's rarely any conversation, it's difficult to trade and can be hard to play with others online from time to time. Nowadays, there are roughly only 5 people having conversations at a time.
So with this low amount of engagement, what will Nintendo Have to Offer at this Animal Crossing New Horizons Direct?
What will the Animal Crossing New Horizons Direct Showcase?
So far, we know Brewster is returning along with a new Amiibo card set. What else do we have going? Is a café feature really going to keep players engaged for a few months or just a few days?
Twitter user 'Samus Hunter 2' a known well-known figure for leaking and updating on information, has mentioned what we can expect to see in this upcoming direct.
Pretty much all the point (outside of Kapp'n that I feel they are going to release its features later) should be featured in the november update, alongside other new contents. Other features that were planned are: New Crops, cooking, new emotions, furniture, etc..#AnimalCrossing https://t.co/beg1wVKHLw

— Samus Hunter | Nintendo Leak and News Inside (@SamusHunter2) October 6, 2021
If cooking is incorporated it would be nice to have some form of a scoring system behind the cooking, perhaps the better quality of the products, the more our fellow villagers will enjoy it. Cooking dishes for our favourite villagers and even having cooking competitions at some point in the year would be great. It may sound very far fetched and doesn't seem like anything Nintendo would do, but that SHOULD be incorporated.
Comparison to Story of Seasons
After playing Story of Seasons: Pioneers of Olive Town, I realised what Animal Crossing New Horizons could have done to keep their audience engaged. Story of Season may be a farming RPG, but it feels just like an Animal Crossing game, but with humans. You build friendships, explore, go cooking, go fishing, customise your home, craft and build materials for facilities and many town events.
What makes this game so engaging is that with each person in Olive Town, you are able to increase your friendship points with them. Yes, this can be done in Animal Crossing, however, the MAJOR difference is that with each new friendship level, there's a cutscene and you get to know that character a little better over time. There are plot twists, as well as the characters having a story, the player also has their own little story as well. It's certainly fun to play through.
It feels more relatable, that's what's missing. The feeling of actually getting ot know those around you, the community, the unexpected, going about your day to carry out your usual routine and something happens out of the blue, perhaps spotting a ghost, having your first encounter with an evil Ninja named CAT, finding cows stuck in the middle of the town hall or meeting adorable earth sprites who invite you to their garden and help you gather resources.
My point is Nintendo could have done better, while this isn't their particular style, there is a lot lacking in Animal Crossing New Horizons in comparison to New Leaf, City Folk, Wild World and even the original Animal Crossing. While many players appreciate their efforts, adding recipes and a lot of freedom for customisation, there are too many things missing and if they are not careful enough, by the time they add all that's been missing to Animal Crossing New Horizons, players may lose interest.
If you enjoyed this, keep up with all the latest gaming news, competitions, future discounts and amazing content.
Twitter: @Go2Games
Instagram: @go2gamesshop
Youtube: Go2games.com
Facebook: Go2games.com
You can subscribe to the Go2Games newsletters via the website.