Nintendo have updated Wii U's software, with the last update being in September 2018.
Wii U has received its first update in over two years, updating the system to Ver.5.5.5. The renewing of the Wii U includes 'improvements to system stability and usability'. It is likely there is more to this update than the general public know.
Nintendo did not announce the update but instead added it to Nintendo's support page. This follows what seemed to be the end of Wii U, which officially ended four years ago on March 3rd 2017. The last title to be released on the Wii U was the Legend of Zelda: Breath of the Wild  and ever since then the console seemed to be dead.
The last firmware update was on September 3rd 2018 and was described as having 'further improvements to overall system stability', which is similar to this years description. Many in the modding community are guessing that this is an attempt to abolish system exploits. Though nothing has been confirmed, this could explain why Nintendo is bringing the console back to life in 2021.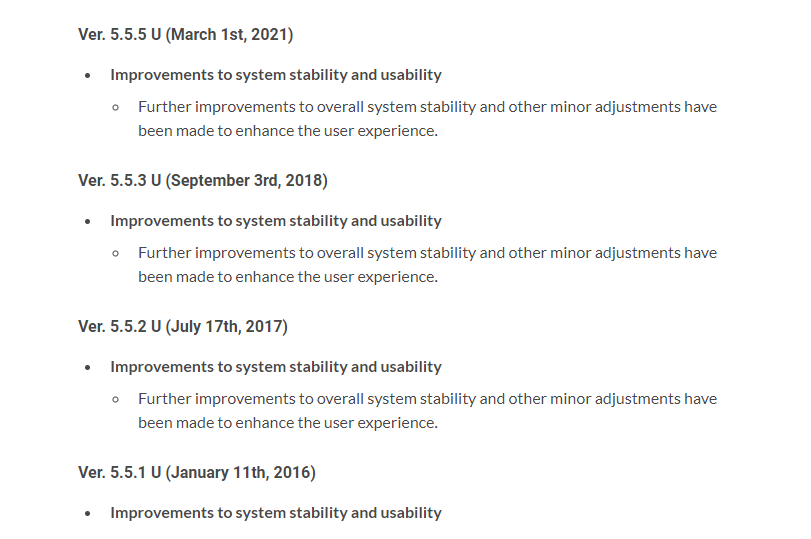 It is not a usual occurrence for Nintendo to acknowledge Wii U these days, which emphasises the importance of this update.  The Wii U was a very unsuccessful console, so makes sense why Nintendo does not support it much anymore. The introduction of the Nintendo Switch four years ago took over the success of Wii U, selling 80m units in this time and explains why Nintendo do not support the Wii U  as heavily. Nintendo can legally remove the system exploits from the Wii U to improve the console, although nothing has been announced yet.