Get ready Xbox fans, you may be in for a treat! Microsoft have been sending gift boxes to random players in honour of their 20th anniversary. How thoughtful.
What do these mysterious boxes contain we hear you ask? We'll get to that in due course. Firstly, let's see how to be eligible for the gifts. It seems that it will only be going to players who have registered for Xbox Fanfest. So if you haven't done that already, well waste no time and get to it right away!
Secondly, well lets waste no time getting into it then. They contain a Halo themed Xbox Series X/S controller, 12 months of Xbox Game Pass Ultimate and a large crystal statue. Pretty great present this Christmas, right? Additionally, the statue contains  the Xbox 20th anniversary logo and has the player's Xbox Gamertag laser engraved on it. We want one.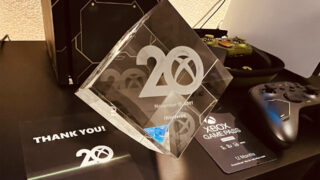 Fantastic Time For Xbox Fans On 20th Anniversary
You see when I mentioned that Xbox may seem like that neglectful father figure the other day? Well scrap that, they clearly do care (although we'd still like to see a Platinum equivalent, please). I'm saying this because they even attach a little note inside the bundle too. Isn't that lovely? This is exactly what it reads:
"As a think you for being a part of the 20 years of Xbox, we're gifting you this FanFast 20 Years of Xbox Keepsake Kit. This is a limited edition kit, created for randomly selected Xbox FanFest fans to commemorate our journey from past, present and future as an Xbox community."
They further went on to explain the Xbox crystal:
"We have included a 20 Years of Xbox crystal. This is engraved with your gamertag. We extend our gratitude to you for being a part of the Xbox community, the reason for this journey. November 15, 2021 not only means celebrating 20 years of Xbox, it is also a celebration of 20 years of Halo. Celebrate in style with the Halo Infinite Limited Edition controller. You are one of the first to receive this not yet released, bundle-only controller".
Lastly, the statement concluded with a thanks for everyone in the Xbox community..
"We look forward to having you as part of the Xbox community as we continue on in our journey. We're including your next 12 months of Xbox Game Pass Ultimate on us."
Check out some of the tweets from lucky fans below:
Yo thanks @Xbox!

Here's to another 20 more 🍻#giftfromXbox #XboxFanFest pic.twitter.com/xgZCusj6UP

— Perston (@PrestonalityC) November 22, 2021
I'm so thankful for this! Amazing! pic.twitter.com/1H7EvL5lr3

— 🇨🇦CredibleHulk🇨🇦 (@CredibleHulk4) November 23, 2021
https://twitter.com/chrisbweaver/status/1462247351507030020?s=20
Other Xbox Treats Will Get Players Excited
Amongst this bundle, Xbox also marked the brands 20th anniversary with the release of a limited edition translucent Xbox Series X/S controller with the 20th anniversary logo on it. They just can't seem to stop giving away the gifts! When players connect the controller to an Xbox Series X/S console, they unlock an exclusive dynamic background.
This is all great news for players of the console, especially those who are also fans of Bethesda as the the two company's have secured an exclusive deal with each other. Those looking for a true single player experience, they you're going to be thrilled. Bethesda director Todd Howard announced on an IGN Unfiltered podcast that this is what they will be focusing upon for the future. Read more on that here!
To celebrate this exciting period, we highly recommend picking up this awesome Xbox headset right here.
Sign up for our newsletter from the website.
Instagram: Go2GamesShop
Twitter: Go2Games
Youtube: Go2Games.com
Facebook: Go2Games.com
Store: Go2Games.com