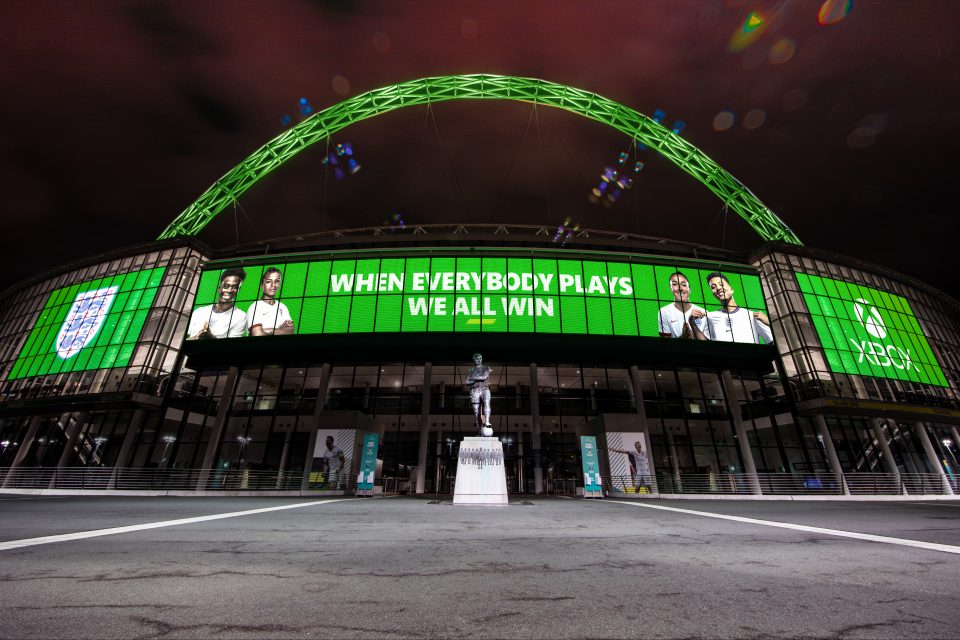 The gaming giants are committing to the grassroots campaign and showing their support for the England football team
Microsoft announced its decision to partner with The FA ahead of the World Cup qualifying match against Hungary on September 2.
Xbox has also said it will be committing to a grassroots gaming campaign, helping out the local communities to help bring exciting experiences for football and gaming fans across the nation, with more details about ways to join upcoming events to be scheduled soon.
Xbox and The FA
The gaming giants will become official sponsors of where the England Football team plays, Wembley Stadium and St George's Park- Wembley Stadium was even lit up in Xbox Green to celebrate the partnership.
The FA said in a statement that the reason it admires Xbox is the company's slogan "inclusive, accessible, safe for all" fitting well with The FA's new marketing slogan "When Everybody Plays, We All Win". Both companies are trying to push for inclusivity amongst football and gaming alike.
At Xbox we strive to remove barriers and to empower people to experience the joy of play: millions of people around the world find common ground and connect through playing games, as they do with football. In The FA we see a tremendous organization which has the same drive and ambition to empower people as we do at Xbox.  Through our partnership we aim to bring further value to the England Football Teams and power the dreams of players and fans everywhere. – Marcos Waltenberg, Xbox's director of Global Partnerships.
Kathryn Swarbrick, The FA's marketing boss, also made a statement in which she says The FA is "delighted" to be partnering with Xbox and "as a not-for-profit organisation, commercial partnerships are vital in allowing us to continue to invest millions into all levels of the game", so the company thanks Xbox for that support.
Grab these voucher codes for our website for some discounts! Offers must end on September 3rd!
Use BACK2SCHOOL – For 5% off all Pixie Crew stock!
Use MOON10 – For 10% off Harvest Moon: One World (Switch)
Use CODMW5 – For 5% off COD Modern Warfare (Xbox One)
Use TOON5 – For 5% off Splatoon 2 (Switch)