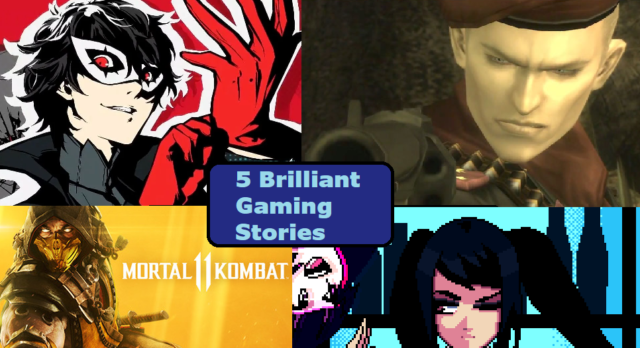 Persona 5. My first experience JRPG gaming, never forget your first. You play a high-schooler framed for assault when trying to stop another. What follows is a friendship/romance simulator by day with a fantasy meets super-heroic set of heist adventures by night! Even The Escapist's Ben "Yahtzee" Crowshaw, YouTube's resident comedic reviewer with a JRPG-allergy is drawn in, partly thanks to the brilliant sound design and music that makes time in and out of story segments equally entertaining. Don't bother with a morning coffee, just hit play on Life Will Change, thank me later. Pick up Persona 5 or it's What-If-style alternate story (Persona 5 Royal) here at G2G here!
Mortal Kombat 11. You know it, you love it, whether it's for the Tarantino-esque action-packed fun or the surprisingly deep lore and entertaining characters. Older Johnny Cage taking the mick or cringing at his younger self (time travel shenanigans, roll with it) always cracks me up. The sub-plot with Jade and Kotal Kahn trying to bring peace as Outworld's (evil bad guy dimension, invading earth, no big deal) new power couple was also surprisingly wholesome, despite their mixed results. And hey, worst case scenario, you at least get a cool fight every time things go south, I see that as an absolute win. Pick up Mortal Kombat 11 or it's film-game double-pack here at G2G!
Metal Gear Solid 3: Snake Eater. No lie, this was my first entry into Kojima's Metal Gear series. Just chocked up any spectacularly surreal goings-on to "oh, they probably explain why that's a thing in the past games". Behind the meowing pistol-twirling rivals and octogenarian photosynthesizing sniper gods however, is an engaging spy drama which rewards strategic planning and stealth. It's so intense that I wouldn't ask the suspense to stop killing me for even a second. If you thought Marvel's Thanos was an interesting villain for being motivated by a sense of selflessness, wait till you get a load of 'The Boss'.
VA11-Hall A: Cyberpunk Bartender Action. Picked up this bad boy during a pride month sale and it did not disappoint. The simple gameplay of tapping on items from a menu to rhythmically mix cocktails makes it ideal for chill times with friends. Maybe take turns doing hilariously good (or bad) voices of the characters if you're brave enough. Quirky and fun for those on the side-lines with a level of depth in serious moments that hit hard if you're playing alone… Also, no spoilers, but Sei? Let's just say we in the gaming community like our strong women. Show some love to Sukeban Games, great developers.
Danganronpa 2: Goodbye Despair… Between this and MGS 3, starting to think I've a fetish for getting into sequels before their debut installments! 16 prestigious students known as the "Ultimates" in their respective fields (in everything from cooking to… affluent millionaire?) are invited to an island getaway. This quickly turns into a murder-mystery when a remote-controlled evil bear robot with the voice of Micky Mouse holds the students captive and the price for freedom is killing another without getting found out in an ensuing trial! Channel your inner-Sherlock to sus out whodunnit, but have two tissues at the ready. One for when your favourite character kills or gets killed. Second because, let's just say there's a lot of "waifus" for my fellow filthy weebs. Check Spike Chunsoft and writer Kazutaka Kodaka, who made the Danganronpa Games.
For more narrative-gaming goodness, try my YouTube: https://www.youtube.com/channel/UCtlC2b-_Ns-3iFnEqo5wz7g/videos
Sign up for our newsletter from the website.
Instagram: Go2GamesShop
Twitter: Go2Games
Youtube: Go2Games.com
Facebook: Go2Games.com