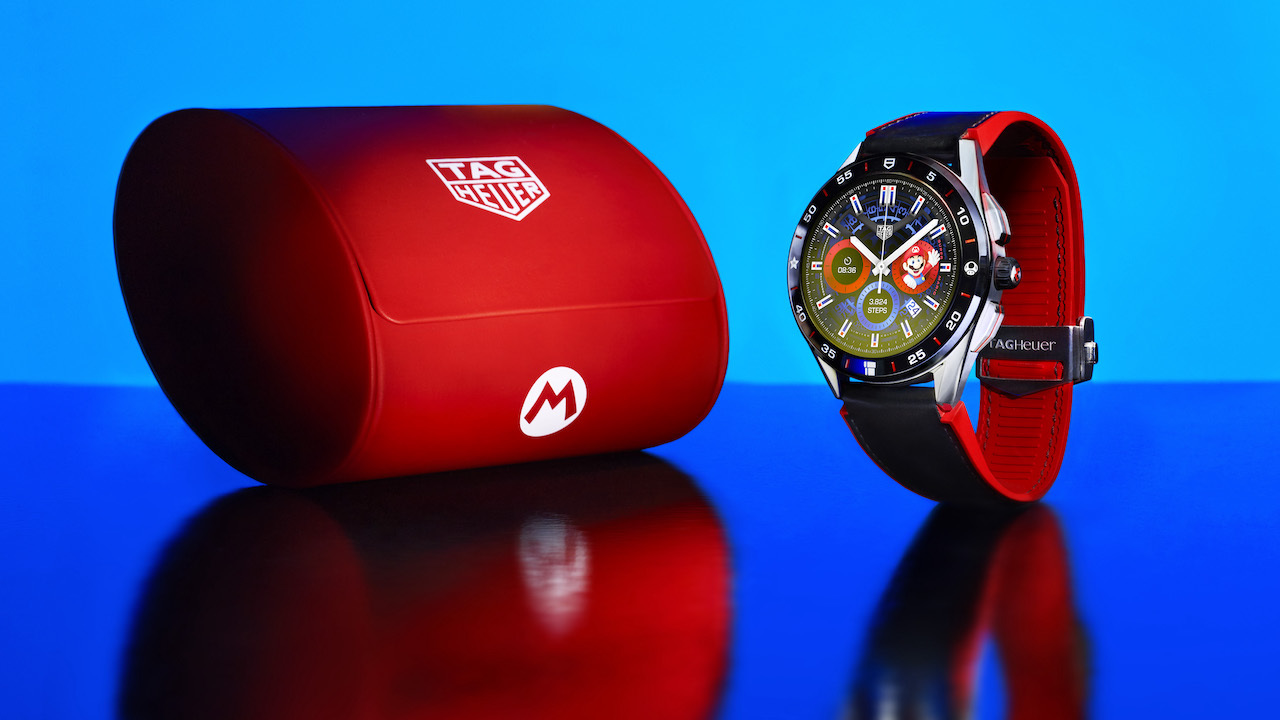 It's Mario Time!
From one new watch collaboration post to the other…
Yes, we have not one but two brand new watch deals coming from two major Japanese franchises, although one is far more expensive than the other.
Mario x TAG Heuer
Any Nintendo fan will know that the company has always kept a very close hold of its IP. Yet in recent years, Nintendo has been loosening that grip slightly, with a new Mario movie, mobile games, and a brand new theme park being the latest in a whole line of IP.
Now, Swiss luxury watchmaker TAG Heuer is teaming up with everyone's favourite Italian plumber for a limited edition smartwatch.
The Mario smartwatch will be a limited edition of TAG's Connected Wear OS smartwatch that dropped last April.
The hardware of the watch will be identical, but the design will feature an M-for-Mario on its crown and will come with a red strap and a black strap and a watch case in "Super Mario Red". The watch will also feature little Mario animations that will play as you hit various step goals throughout the day, giving the watch a "gamify" effect.
There are four new Mario watch faces too, including the Timekeeping dial which uses "retro elements from the 1985 version of Super Mario Bros. with Mario, all in pixels". The watch has a 45mm face, water-resistant up to 5ATM, and has a 430mAh battery that can last up to a full day depending on how much you use the GPS and heart monitor.
The Price…
Just going to have to give it to you straight: it's $2,150 (£1,553).
That's the equivalent of 6 new OLED Nintendo Switches or 5 Apple Watch Series 6s.
There is a reason for this (kind of?) as only 2000 units are being made, but if you already have a TAG Connected watch, the company are thinking of adding the animated features available at a later stage, so you might not need to buy an upgrade.
More details about the Mario smartwatch is expected to drop on July 15.
Which of the two watch collaborations that you have seen today would you buy?
Grab these voucher codes for our website for some discounts! Offers must end tomorrow!
Use TPOINT10 – For 10% off Two Points Hospital (Xbox One)
Use BLOOD10 – For 10% 0ff Bloodborne – GOTY Edition (PS4)
Use SQUAD10 – For 10% off Star Wars: Squadrons (PS4)
Use GEARS10 – For 10% off Gears 5 Standard Edition (Xbox One)
Use VULCAN10 – For 10% off Roccat Vulcan 121 – Mechanical RGB Gaming Keyboard
Use VULCANRGB10 – For 10% off ROCCAT Vulcan 120 – Mechanical RGB Gaming Keyboard
Use KHAN10 – For 10% off ROCCAT KHAN Aimo 7.1 High-Resolution RGB Gaming Headset – White
Use KAIN10 – For 10% off Roccat Kain 202 Aimo RGB Wireless Gaming Mouse – White
Sign up for our newsletter from the website.
Instagram: Go2GamesShop
Twitter: Go2Games
Youtube: Go2Games.com
Facebook: Go2Games.com