Better catch these quick…
As stated previously in my other Japan-does-a-really-cool-thing-for-the-Pokemon-anniversary post, Japan keeps doing really cool things for the 25th anniversary of Pokemon.
Japan has always managed to release awesome merch for its big franchises and The Pokemon Company has been partnering with so many companies this year to celebrate their success over the years. This time it's Japanese luxury watchmaker, Seiko.
Pokemon x Seiko
Seiko is releasing a set of luxury watches based on the three starter Pokemon from Pokemon Red and Blue's Kanto region in Japan next month.
Each design is made of stainless steel, along with spotting a sapphire glass face.
The three pokemon, Bulbasaur, Squirtle, and Charmander, are by far some of the most popular starter Pokemon among new and old fans alike and each set of designs is catered to the respective Kanto region Pokemon and their attacks and evolutions.
This isn't the first time Seiko has collaborated with Pokemon, as they released Pikachu, Eevee, and Mewtwo watches for the holidays last year.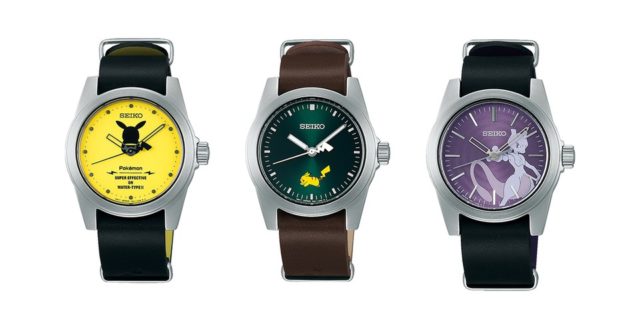 The Bulbasaur watch is green with a background based on Solarbeam; the Charmander watch is red with a background based on Fire Spin; the Squirtle watch is blue with a background based on Hydro Pump. Each design also features each Pokemon's middle stage evolution on the 12:00 and 6:00 spots of the watch, as well as their final evolutions on the back.
The watches all come in Pokemon-themed watch boxes, and a little bonus microfibre cleaning cloths with the respective Pokemon stitched on. The watches themselves feature a solar-power battery, stopwatch, and alarm.
The Price…
These are limited edition watches and with only 700 units being released for each watch, it comes at a price. 49,500 yen to be precise (£325). Pokemon fans can get them from Seiko's online store but be quick as they will release August 6 and will definitely sell out.
Grab these voucher codes for our website for some discounts! Offers must end tomorrow!
Use TPOINT10 – For 10% off Two Points Hospital (Xbox One)
Use BLOOD10 – For 10% 0ff Bloodborne – GOTY Edition (PS4)
Use SQUAD10 – For 10% off Star Wars: Squadrons (PS4)
Use GEARS10 – For 10% off Gears 5 Standard Edition (Xbox One)
Use VULCAN10 – For 10% off Roccat Vulcan 121 – Mechanical RGB Gaming Keyboard
Use VULCANRGB10 – For 10% off ROCCAT Vulcan 120 – Mechanical RGB Gaming Keyboard
Use KHAN10 – For 10% off ROCCAT KHAN Aimo 7.1 High-Resolution RGB Gaming Headset – White
Use KAIN10 – For 10% off Roccat Kain 202 Aimo RGB Wireless Gaming Mouse – White
Sign up for our newsletter from the website.
Instagram: Go2GamesShop
Twitter: Go2Games
Youtube: Go2Games.com
Facebook: Go2Games.com