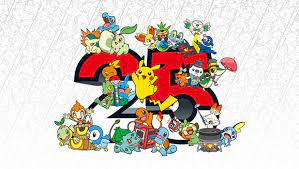 Another day another Pokemon 25th Anniversary announcement…
The Pokemon Company aren't taking this celebration lightly. Only a few days after the Pokemon x Seiko announcement, it has revealed incredible new 25th anniversary Pikachu cards.
The Pokemon Celebrations Collection
Last month, The Pokemon Company announced its 25th-anniversary set, Pokemon Celebrations, which will contain an all-new Elite Trainer Box, special 4-card Pokemon Celebrations booster packs, new foil cards, and more. It will feature callbacks to older types of Pokemon cards such as Dark, Prime, and Lv. X cards. Now new Pikachu cards have been announced to be joining the celebration.
A special 25th Anniversary Collection will be released in Japan and will feature 7 brand new Pikachu cards including; a full-art remake of the original Base Set, redrawn by the original artist Mitsuhiro Arita; Surfing Pikachu V, Flying Pikachu V, Surfing Pikachu VMAX, Flying Pikachu VMAX, Pikachu V and Pikachu V-Union card that will feature 25 unique Pikachu drawn by different artists.
Serebii Update: More 25th anniversary Pokémon cards have been revealed for Japan including Surfing Pikachu V, a full art Base Pikachu and Pikachu V-UNION https://t.co/gDbXkHSvkT pic.twitter.com/qbhTYqs7N1

— Serebii.net (@SerebiiNet) July 14, 2021
Fans that manage to buy 4 booster packs in Pokemon Centres scattered across Japan will also receive 25th Anniversary Edition promo packs featuring reprints of old Pokemon cards like Birthday Pikachu and Base Set Venusaur.
The 25th Anniversary Collection will be released on October 22 in Japan, yet sadly it hasn't been announced whether it will make it overseas.
Missed all the other Pokemon 25th anniversary announcements? Check here!
Sign up for our newsletter from the website.
Instagram: Go2GamesShop
Twitter: Go2Games
Youtube: Go2Games.com
Facebook: Go2Games.com