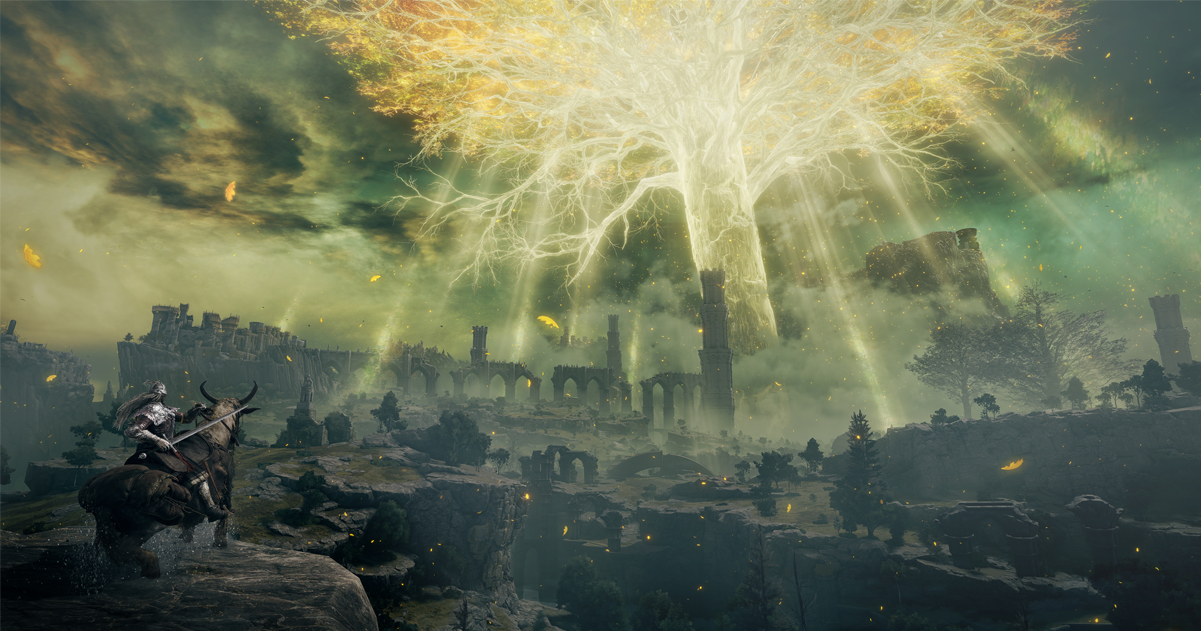 The closed network test for Elden Ring went live recently and an abundance of footage has surfaced displaying various aspects of the game. FromSoftware has packed the network test with a whole load of content that gives insight into the ways that Elden Ring sets itself aside from its counterparts in the Souls series.
The Open World in Elden Ring; The Lands Between
One of the key departures from the Souls formula is that Elden Ring is much more open world. The open world in Elden Ring looks beautiful. The Lands Between are incredibly well crafted and detail rich, and this is only the closed network test. This makes me wonder how much more expansive the world will be in the full game. The enemy and environment design in this game is wonderful.
After meeting the Maiden and acquiring your horse, the map opens to you and you are free to explore. There is lots to explore outside of the main path. The map is filled with camps, dungeons, caves, and a variety of other overworld events. The rewards for all of them seem worthwhile and FromSoft have managed to avoid the trap open-world games tend to fall in to of having expansive yet empty worlds.
Instead, there is an abundance of secrets to find in varying forms, which FromSoftware have always managed to implement well in their games. Even more impressive is how they have implemented this design philosophy into Elden Ring's open world. The classic level design that FromSoftware are known for is present throughout.
Camps and Settlements
The enemy camps act like small settlements that you must take out. This is where the game's stealth system is best utilised, as it allows you to sneak around and take soldiers out one by one or else you risk alerting the entire camp. The game rewards you with replenished resources after clearing out large groups of enemies, so you can keep exploring without having to return to a Site of Grace every 2 minutes to restock. This is a nice touch.
One detail that really stood out to me is how the bosses will have an impact on the surrounding areas. An early boss will destroy parts of a cathedral to pursue you. The dragon seen in the gameplay preview will destroy trees and burn them away if they are caught in the flames. Little touches like this show that these hulking behemoths have an affect on the world too which makes the game feel more dynamic.
Crafting in Elden Ring
The crafting system in-game encourages you to explore and collect the various materials located in the world to craft items that will help you in your journey. This acts as a good incentive to explore and make use of the items you find. Instead of relying on drops or merchants to sell you consumables, they may be created using recipes and naturally occurring materials. Expect to collect flowers, look for animals, and buy stoneware to bake your balms and explosives in.
Oh and last but not least, you can fast travel from anywhere on the map to a Site of Grace, so long as you're not in a dungeon.
Elden Ring is available to pre-order from our store now and will release on the 25th of February 2022.
Read here for some more tips on surviving The Lands Between, or here to get see how combat functions in the game! There's also lots of information on specs and performance available too.
Don't forget to subscribe to the Go2Games newsletter for updates on the latest gaming news and deals, and follow our socials below!
Twitter: @GO2GAMES
Instagram:go2gamesshop
Facebook: Go2Games.com
Youtube: Go2Games.com
Store: go2games.com