The Epic Games Store has shared the two titles that will be free to play next week. Since 2020, Epic have been giving out free games to players. Starting 28th April, both Just Die Already and Paradigm will be free to play until 5th May.
Just Die Already and Paradigm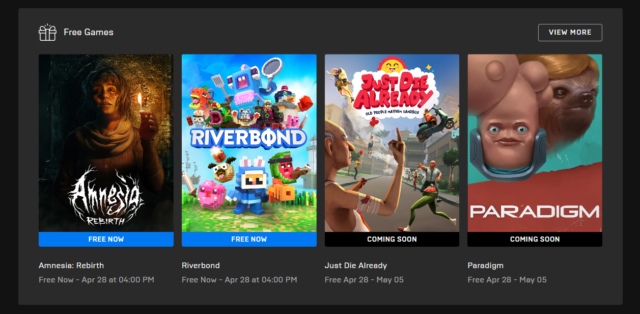 Just Die Already is described as an "old people mayhem sandbox" game. Players must complete challenges in order to earn enough money to claim a comfortable retirement. You can either play singleplayer or as a group of 4 – either as a team or "ripping your friends' limbs off!"
Paradigm is a "surreal adventure game", set in a post-apocalyptic fictional Eastern European country. In the game you play as "the handsome mutant, Paradigm, whose past comes back to haunt him in the form of a genetically engineered sloth that vomits candy."
The two free games available now till April 28th are Amnesia: Rebirth and Riverbond. Amnesia: Rebirth is a singleplayer horror game in which players must piece together their past while trying to escape a fear-feeding creature. Riverbond is a voxel co-op game where players hack and slash their way through "cute but deadly" bosses.
Epic news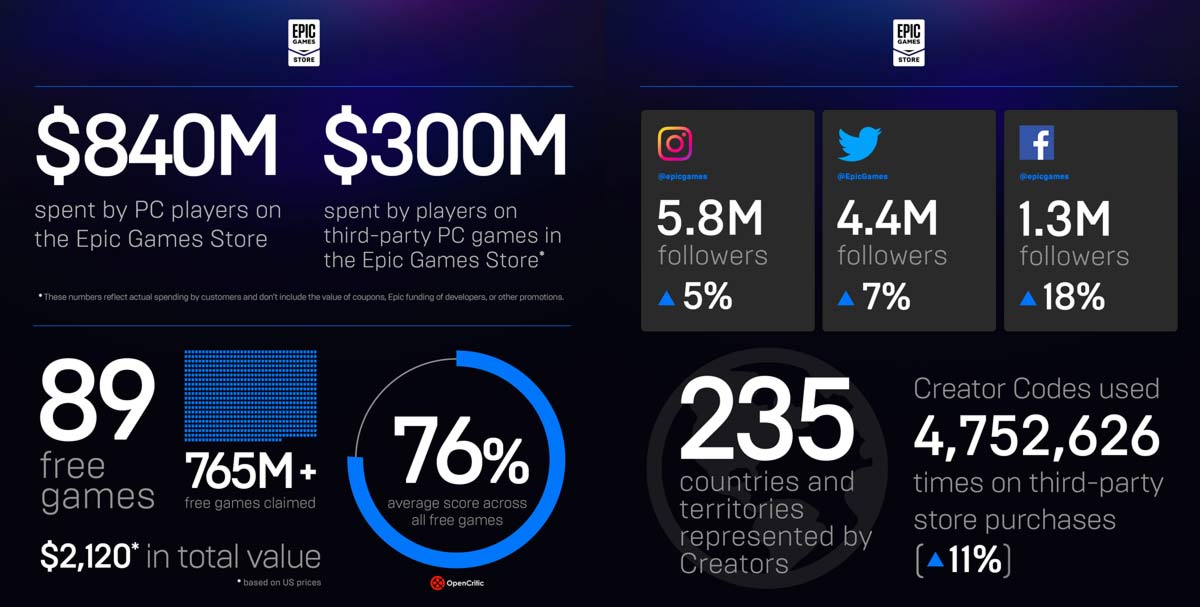 Since 2020, Epic have been giving out free games to players. In 2020, they gave away 103 free games and in 2021, they gave away 89. It is part of a continuing trend with Epic Games, whose business model seems driven by making things freely available for players and developers alike.
Last year, Epic acquired Artstation and the Arstation Learning platform was immediately made free for all users. Last month, Epic also acquired Bandcamp – although it remains unclear how this will affect the way Bandcamp operates.
Their Unreal Engine software is also free to use and earlier this month, Epic released Unreal Engine 5 for all users. The new software includes Lumen and Nanite technology that reduces, if not removes, the need for baking lighting or texture maps.
Developers can download Unreal Engine to make games or videos for free. According to the Unreal website: "A 5% royalty is due only if you are distributing an off-the-shelf product that incorporates Unreal Engine code (such as a game) and the lifetime gross revenue from that product exceeds $1 million USD; in this case, the first $1 million remains royalty-exempt."
Metaverse
This business model for the makers of Fortnite seems to be working. They announced earlier this year that the Epic Store's user count had risen to 194 million and that sales, at about $840 million, had risen 20% since 2020. Other companies also clearly see the value in Epic, with Sony investing $1 billion into Epic Games' involvement in the Metaverse and Lego partnering with Epic to make the metaverse suitable for kids – with reports of also investing $1 billion into the company.
Sign up for our newsletter from the website.
Instagram: Go2GamesShop
Twitter: Go2Games
Youtube: Go2Games.com
Facebook: Go2Games.com
Store: Go2Games.com