Square Enix updated the Steam page for its Final Fantasy V and VI remakes to announce the two titles are to be removed for good.
But don't worry, there's a very good reason for it.
After July 27, both games will no longer be available to purchase due to the Final Fantasy Pixelated Remaster being released the very next day (at least, some of them). It is said to be staying more faithful than other remasters of the series' older titles, which is a lot more that can be said about the Final Fantasy V and VI remakes.
Final Fantasy V and VI: What went wrong?
Final Fantasy V and VI were widely severely criticised by fans due to them both being ports of the mobile version, which were poorly received as well. Some criticisms were that the mobile-ported remakes came off as cheap exploitation towards the fans, and the remade art and gameplay quirks made the experience inferior to the original versions and GameBoy Advanced ports.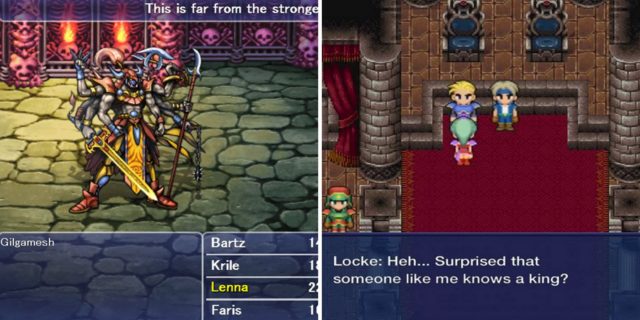 Therefore, what Square Enix is doing is the right way to go about introducing Final Fantasy Pixel Remaster. Removing the games from Steam will help focus the attention on the new additions and make it as simple as possible for fans and newcomers alike as they won't be confused about what game they are attempting to buy.
What to expect from Final Fantasy Pixel Remaster:
Final Fantasy Pixel Remaster includes remasters of the first six Final Fantasy games for fans to enjoy. Square Enix plans to release them singularly in sequential order, starting with the first three in the series dropping on July 28, so Final Fantasy V and VI will have the longest wait, however it looks like it will be worth it.
The collection will keep the games' 16-bit art style while improving the visuals and sprites of the games, suggesting to fans that this may be the best way to experience the older titles so far.
The original trailer announcing the collection didn't show what the games would look like, however, 30 minute Youtube video showcased more about the games before getting deleted. Fear not, Twitter user Wario64 managed to share screenshots of what to expect.
Final Fantasy V and VI pic.twitter.com/E1thrxj8rE

— Wario64 (@Wario64) June 29, 2021
So far, there has been a lack of confirmed console releases and a sparse amount of details that have left fans feeling worried. At the moment the games are only set to be released on Steam and mobile devices, but if they do well, the collection could be expanded. For now, fans can expect the first Final Fantasy Pixel Remaster game to be released in July for PC and Mobile.
Final Fantasy games currently available in our shop.
For more Final Fantasy news like the newly announced animated adaptation, sign up for our newsletter from the website.
Instagram: Go2GamesShop
Twitter: Go2Games
Youtube: Go2Games.com
Facebook: Go2Games.com