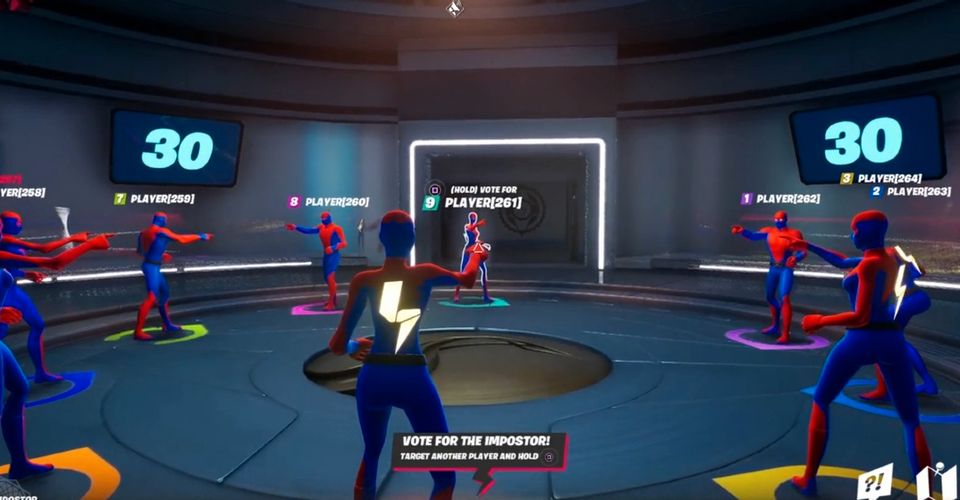 Epic Games finally credited Among Us for its Imposters mode on Fortnite, and it's left us hopefully with a lot more than we expected…
Earlier this year, Epic Games announced Fortnite would be receiving a new social deduction mode, titled Imposters, that sounded almost exactly like the extremely popular indie game, Among Us. 
Fans called Epic Games out (as well as members of InnerSloth the team behind Among Us) for the blatant plagiarism and after two months, Fortnite has finally credited the whodunnit game in its new update.
Imposters on Fortnite
If you aren't aware, the Imposters mode on Fortnite consists of 10 players, 8 agents and 2 imposters. It takes place on The Bridge, a large multi-room environment in which agents are trying to keep it maintained while imposters are trying to destroy it without getting caught and whenever a dead body is found, chaos irrupts as everyone who is still alive tries to figure out who the imposters are.
So, very Among Us-esque.
The credit to Among Us came very subtly in a tweet from the official Fortnite account that informed followers of the new updates the Imposters mode has received. The new update for the deduction minigame includes features such as "Role Bias", which gives you a better chance of getting the role you want between Agent and Imposter, and "Open Voice Chat Playlist", which gives you a better chance to discuss your suspicions between teammates.
🍌Peely Party!🍌

Impostor's mode, inspired by the hit @AmongUsGame, received some updates in v18.20 including:

✅Role Bias – Agent or Impostor? Get a better chance of getting the role you want
✅Open Voice Chat Playlist – Discuss who's being shady

Info: https://t.co/K30kDK1mLi

— Fortnite (@FortniteGame) October 12, 2021
The official Twitter account for Among Us then replied it what could be a very cool, yet maybe a slightly pre-planned marketing tweet that launched a thread conversation between the two brands which discussed the possibility of the two games collaborating together in the near future.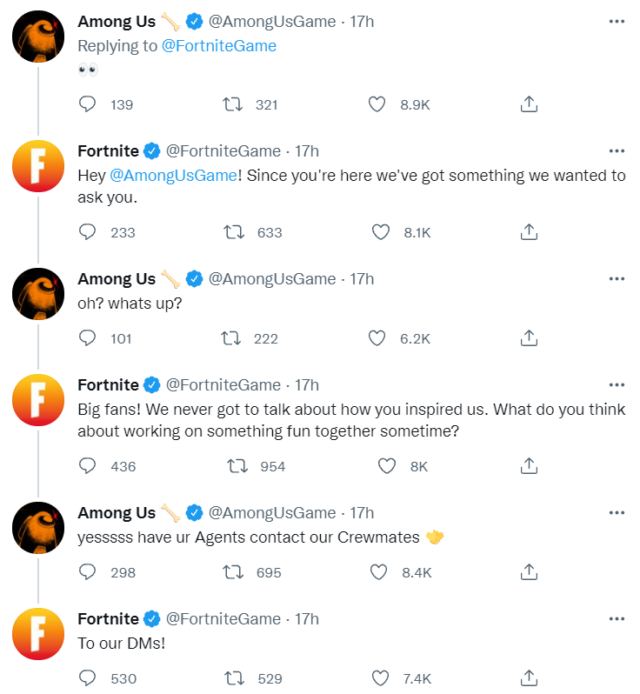 While we have no idea if this will be announced officially any time soon, it's nice to see a big video game like Fortnite realise its mistake and give credit to independent games it took inspiration from.
No matter how big a game from an independent studio might get, it will always be behind games produced by multinational corporations so it is really important companies credit those games when they receive inspiration from them.
Grab these voucher codes for our website for some discounts! The offer ends on October 18!
Use HARVEST5 for 5% off Monster Harvest!
Use WRC10 for 10% off WRC10 on all platforms!
Sign up for our newsletter from the website.
Instagram: Go2GamesShop
Twitter: Go2Games
Youtube: Go2Games.com
Facebook: Go2Games.com