Epic Games' Fortnite has garnered quite the reputation for all it's weird and wonderful crossover events and deals. From DC superheros, to Marvel, to Star Wars and… *checks notes*… The Will Smith in Bad Boys? Weird flex, but okay. We even got major sports figures getting in on the action like Lebron James and basically every known major footballer on the face of the planet (or soccerteer for any american folks reading, but at this point, an NFL crossover wouldn't be that surprising).
Fortnite is currently in it's Chapter 2 Season 8 phase, featuring The Sideways, presumably because the Upside Down was taken, but let's not mince words, Fortnite would rise to trending for at least a week if they dropped a gameplay trailer of Eleven flossing after landing a headshot!
Some features of the Sideways areas include:
Giant purple zombie dimensions.
Floaty purple turbulence airwaves you can build up to and glide on.
Floaty purple cubes that make you floaty, purple, and a little transparent.
You get the idea. Most of the new stuff is floaty and purple, outside of the new season pass unlockables. If it's not purple, it's floaty. If it's not floaty, it's purple. At this point, I wouldn't be surprised if Ridley ended up as the mystery character for this season.
Back on topic though!
Fortnite dataminer 'HYPEX' discovered new details about a possible collaboration with Monopoly. He shared an image of "back bling" Fortnite cosmetics to his socials, all of which are based on Monopoly tokens, which you can see down below.
Fortnite x Monopoly Cosmetics!?

I have no idea if it's a collab but it looks like it, they just got decrypted! pic.twitter.com/qn9k20ORlY

— HYPEX (@HYPEX) September 24, 2021
The image also says 'Item Shop' on one side, so it's likely this crossover will mostly be specific to the in-game cosmetic store, which has different emotes and items roll in every day, so be sure to check every now and then just in case. Furthermore, Fortnite is known for having special additional game modes outside of just the battle royale modes. Fortnite has dabbled in a 1 Thanos VS Everyone Else mode, an Among Us imposter mode and more. So, maybe we'll Fortnite do an in-game Monopoly party game mode, ala Mario Party. We'll have to wait and see.
Side note, I was today years old when I discovered the Monopoly Man's real name is UNCLE PENNYBAGS! Okay, nevermind Goku vs Superman, Pennybags vs Alfred Pennyworth is where it's at! I mean, you already had a Batman Fortnite event and side comic Epic Games, make it happen!
You know what Fortnite, Monopoly and Halo have in common? EVERYTHING! Monopoly has a Fortnite edition, Halo had a Fortnite crossover event and cosmetics. Well if you want to complete the Fortnite-Monopoly-Halo Venn diagram in your mind, head over to Go2Games here for our Halo-Monopoly set!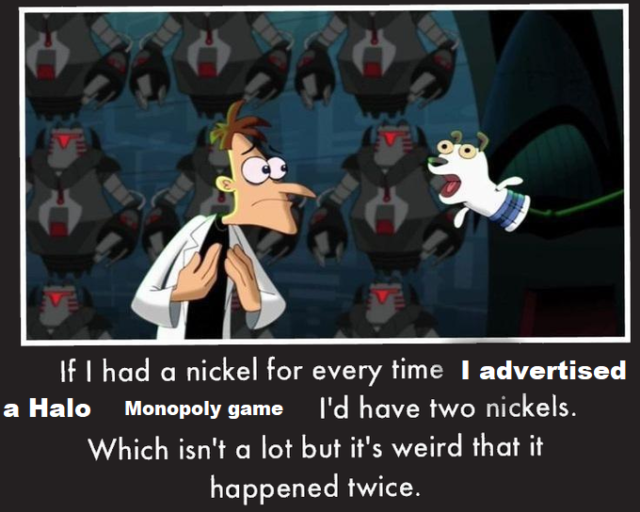 The current crossover this Fortnite season has included Venom and Carnage, with an option to change between Eddie Brock and his symbiote form. There's also rumblings of a possible Naruto Fortnite crossover, but that's a story you can find out more about right here.
Fortnite is free to play on PC, PS4, PS5, Switch, Xbox One, and Xbox Series X/S.
Sign up for our newsletter from the website.
Instagram: Go2GamesShop
Twitter: Go2Games
Youtube: Go2Games.com
Facebook: Go2Games.com
Store: Go2Games.com