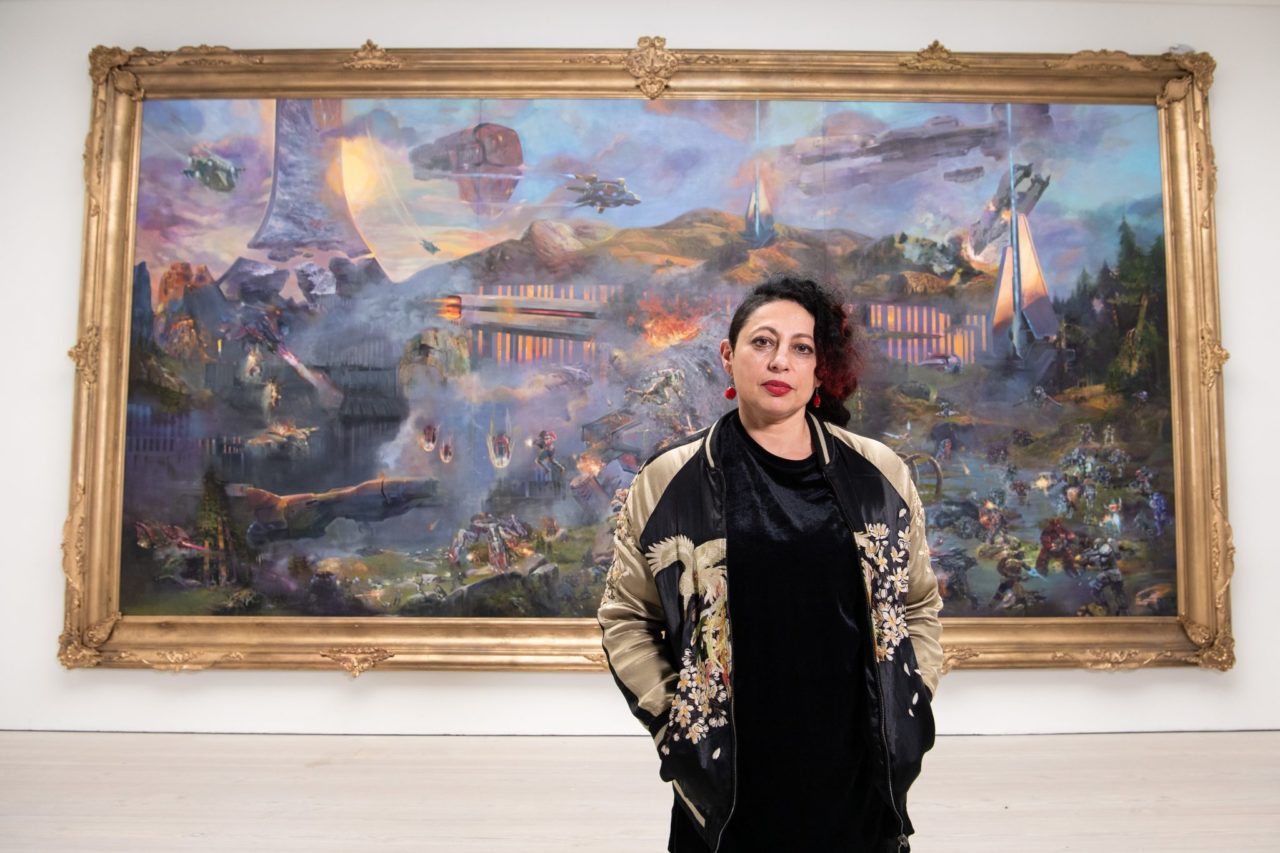 Nothing comes close to this celebratory event
The day has finally come for Halo fans to get a hold of their copy of Halo Infinite and immerse themselves once more as Master Chief. We have already written loads regarding all the different events and collaborations Xbox has done to celebrate the release, but this one really tops them all.
For a limited time only, Halo fans in the UK will be able to visit London's Saatchi Gallery to admire a 6-metre wide piece of art specifically commissioned for the first-person shooter series.
Halo at the Saatchi
Xbox commissioned renowned artist Iva Troj to produce a large 6m by 3m painting to display at the Saatchi Gallery for the celebration of Halo Infinite's launch date.
The painting has been created in a Renaissance art style, the style Troj is most famous for, and depicts Master Chief engaging in battle with his enemies. The painting was so big that Xbox had to build a special cubicle for Trouj and her team to work on it.
The piece of artwork was revealed on the Xbox YouTube channel titled "Masterpiece", in which a choir stands next to the painting singing the iconic Halo theme.
Creating this painting was a labour of love for me. I love the Halo universe and the storytelling in it, and I also know what this work will mean to fans of the series. I wanted to get everything right, from the colours to the characters – I must have drawn and redrawn Master Chief 50 times – and it also had to tell a story. I hope that people see the painting has been created with love and respect for the world of Halo. It was an amazing experience for me. – Iva Trouj
It is currently being displayed at the Saatchi Gallery located in Duke of York Square (near Sloane Square Tube Station) for one week only so you better visit quickly! There is also a smaller replica of the piece on display at the Carrousel du Louvre shopping centre in Paris until December 19.
Halo Infinite is now available on Xbox One, Xbox Series X/S and PC.
Grab these voucher codes for our website for some discounts! Offer ends December 20th!
Use code FAMILYGAMES – For 5% off Sonic Colours Ultimate (all platforms)
Use code FAMILYGAMES – For 5% off Super Monkey Ball Banana Mania Launch Edition (all platforms)
Sign up for our newsletter from the website.
Instagram: Go2GamesShop
Twitter: Go2Games
Youtube: Go2Games.com
Facebook: Go2Games.com