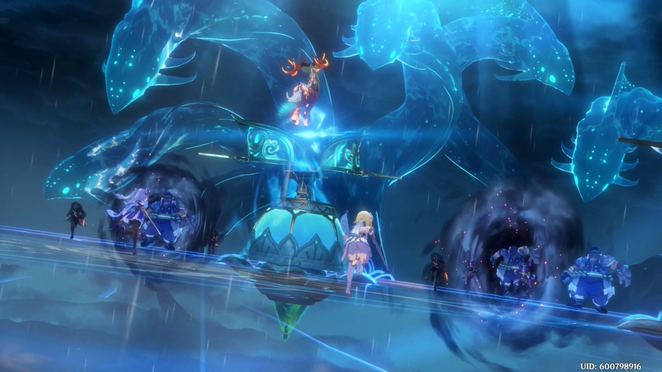 Players will get another chance to face off with Osial.
It hasn't been long since Genshin Impact's huge Inazuma update, and players expected content would be slowing down for a while as the developers work on the next region, Sumeru. However, MiHoYo are coming through with plenty of smaller updates to keep everyone entertained in the meantime.
While new playable characters tend to take the spotlight in terms of hype (and we're all looking forward to seeing Yun Jin and Shenhe appear in-game) other additions such as weekly bosses or new open world enemies can also shake up the game.
A leaker has suggested that Genshin Impact 2.4 might bring another chance to face off with Osial, the beast that we challenged in story mode (thanks a lot, Childe).
[2.4beta]Oceanic Defender-Boss model. pic.twitter.com/2FIX6gp9eB

— GI Front (@GI__Front) December 7, 2021
The battle with the Oceanic Defender, also known as Osial, was one of the greatest climaxes of the game so far – and definitely one of the most memorable Genshin moments for me. The monster was defeated by the Liyue squad after Tartaglia freed it from its legendary prison.
There wasn't much information about Osial for many updates after it got crushed by Ningguang's Jade Chamber. It seems that MiHoYo decided to bring back the beast, most likely as part of the new region, Enkanomiya.
Let's hope this will be a fun challenge to face with friends!
Genshin Impact is available to download and play for free on PC, mobile, and PS4, as well as the PS5. If you haven't been able to get your hands on the new PlayStation console, register your interest at our shop.
Use code FAMILYGAMES before December 20th for 5% off Sonic Colours Ultimate and Super Monkey Ball Banana Mania Launch Edition, available on all platforms.
Sign up for our newsletter from the website.
Instagram: Go2GamesShop
Twitter: Go2Games
Youtube: Go2Games.com
Facebook: Go2Games.com
Store: Go2Games.com