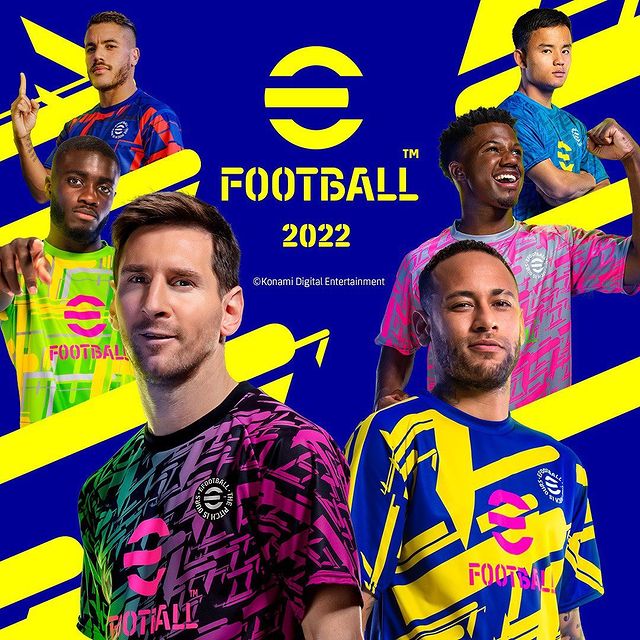 Pro Evolution Soccer and Fifa games have been battling it out each year for the crown of the top football game, clearly being won by the latter for the long term. However, this year PES and Konami have taken a different approach to the franchise. A free to play game, named eFootball, is already gathering some attention from the online community, and not for the right reasons.
Steam 250's review system is traversed by many gamers to leave their thoughts, good or bad, on any game they link; and so far, eFootball has scored a measly 9% and at the time of writing has 9,872 votes, 881 of these being positive. However, the legitimacy of the favourable votes is up in the air, as the Steam community can be comedic geniuses at times.
The spin on PES was released on September the 30th, and Twitter is littered with images of players faces that are not so authentic. This figure on Steam is lower than the previous worst listed game, Flatout 3, which scored a total of 15%. It may be free to play game, but if the quality of the graphics is laughable with crazy microtransactions intertwined into the gameplay to buy "eFootball 2022 Premium Player Packs", some of which can't be accessed until an update goes live in November.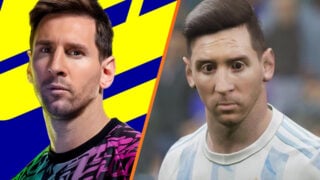 With the release of Fifa 22 today and its positive feedback from the community so far, it looks as though Fifa will be retaking the crown this year. Comparisons are being made between the two-player game faces of two of the biggest names in football. Cristiano Ronaldo and an ambassador of the game, Lionel Messi.
Please tell me this is fake? #eFootball2022 pic.twitter.com/CiPDzwAqSu

— Matt (@MGH) September 30, 2021
Twitter isn't a safe space for trolling at the best of times, and Konami feels the brunt of that now with these comparisons. Konami used face-scanning technology to create a lifelike version of the Argentinian superstar, whilst EA did not. Evidently, EA has done a better job here.
EA without scanning Messi vs Konami after scanning Messi#FIFA22 #eFootball2022 pic.twitter.com/CroI2UCnZe

— Rohit Upadhyay (@yoyorohit07) September 30, 2021
So far, the gameplay and graphics are nothing to scream about either if the reviews are anything to by. One Steam user, who goes by 'Eluryh' comment read, "If I go to replay during a match and I zoom to the faces of the players, graphics seem fine. However, when playing, the game seems to run at a much lower resolution. I'm playing with an RTX 3090, and it looks like a Playstation 2 game." Not such a great depiction for the brand-new release. Another user, 'AmoManiaK', backed up this claim by saying,
"I'm playing on my CX OLED and RTX 3090, and I swear games on PS2 looked better. Ridiculous!"
It's a good job eFootball is a free to play game, because there would most likely be a lot of refunds If not.
Q: Is "Early Autumn" launch basically a demo?

A: In many ways, yes. We want people to get hands-on with eFootball™ as soon as possible, so we will launch with a limited number of teams and modes. Exact details to follow.

— eFootball (@play_eFootball) August 2, 2021
Next month, there will be an update, but the player base may well be lost by then and switched their allegiance to Fifa 22, as its refreshing new gameplay is getting some good feedback. On the other hand, Konami did state on August the 2nd that the launch of eFootball would be "basically a demo" with a "limited number of teams and modes." The update for the title is set to come "later this Autumn", and a clear roadmap for the game's direction from Konami has been laid out.
Some of these include,
Console and PC graphics won't be downgraded when playing against mobile players
The game will include matchmaking filters so you can play against people on the same system
Master League mode will be added as paid DLC in the future
Edit mode and option files will be added as a free update for PS5, PS4 and PC after launch
The game will have free and paid 'Match Passes' which let players nominate and acquire specific players based on matches played
Although the game is free at launch, paid modes will be included eventually, possibly winding up the fan base some more in the process. It's going to be an interesting year for the new take on PES. It'll be intriguing to see how it goes and whether the variation of the game carries on past the 21/22 season. EFootball is set to be released on iOS and Android as well later in the year, but for now, is available on all console platforms and PC.