The Mario Party franchise has had a special place in a lot of our hearts for a while now. With the first title being released way back in 1998, Nintendo have given us various iterations since then. Every new release has gifted us with some classic mini-games to have fun with in between those intense rounds. From Bumper Balls to Jump Man, the competition has always been hot in any household.
However, occasionally Nintendo don't quite get it right. For example, let's look at  the "Tug o' War" mini-game in the original Mario Party on the Nintendo 64. Players would be split into a 1v3 competition and be put into a game of tug of war. The lonesome player would be kitted up in a pretty cool Bowser kit whilst the other three would just be their selected character.
Obviously, you must be thinking well that doesn't sound like it can do too much damage, right? Well, think again. In order to pull the rope, players would have to rotate the control stick on the N64 controller as fast as possible. As Mario Party fans will know, the game gets pretty competitive pretty quickly, As such, players would use the palm of their hands to rotate the control stick to gain a competitive advantage. This is where the injuries would happen. So how are Nintendo dealing with the problem this time round? Well let's have a quick look.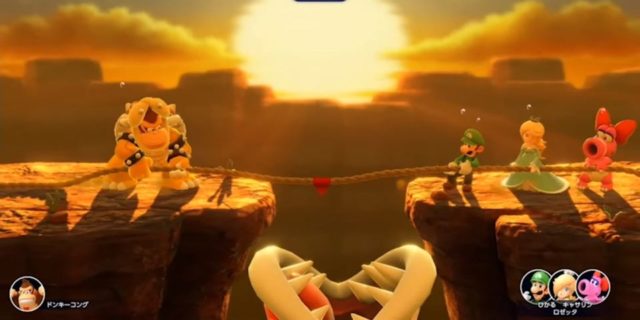 Mario Warns Players Not To Go Crazy
In an October 23 tweet, one user noticed something very important in a screenshot of the infamous mini-game. Despite a lot of fans being in awe of the beautifully improved visuals, it was Anthony who noticed the in-game warning. It read "To avoid irritation to your skin and/or damage to the control stick do not rotate it with the palm of your hand".
THEY'RE BRINGING THE ORIGINAL CONTROLS FOR THIS GAME BACK, JUST WITH A PALM WARNING? NOOOOOOOOOOOOOO pic.twitter.com/NUZUkguvqk

— Anthony (@KirbyCheatFurby) October 23, 2021
Nintendo know from experience that this warning is a MUST. This is because New York Attorney General's office once filed a complaint against them for this mini-game. This led to Nintendo providing players with gloves in an attempt to keep players safe. If this sounds bonkers to you all, well that's because it is. Why on Earth did Nintendo include the mini-game again with all its previous issues? Well, I guess they just like to see mayhem ensue. Undoubtedly, that's going to be the case again. Whether players will actually listen to these warnings remain to be seen.
As we already know, the upcoming instalment is going to incorporate loads of classic mini-games. Nostalgia is certainly going to be kicking in with this one. It will certainly be interesting to see how well they have aged, especially on the Switch console. In addition to this, the Switch controllers are going to be given a real durability test here. Can they handle the violent game-play of the Mario Party players of the 90's? We cannot wait to find out.
Check Out All The Mario Fun Here
There's so much to look forward to in Mario Party Superstars and we just can't wait! We bet you can't either! If your a fan of Nintendo, be sure to check out all the information on the latest Super Smash Bros. Ultimate DLC!
Also don't be afraid to check out all the Mario Party content Go2Games has to offer here
You won't regret it!